What is Glasp AI? Glasp is a social web highlighter designed for the seamless highlighting and organization of web quotes and ideas. It eliminates the need for constant screen-switching, making it effortless to access the insights of like-minded individuals. Furthermore, it empowers you to leave behind a digital legacy for the benefit of humanity while pursuing your personal growth.
Glasp AI is an online platform meticulously crafted to assist users in annotating, organizing, and sharing web-based content, encompassing articles, PDF files, and YouTube videos. With its reputation as the ultimate collaborative knowledge repository, Glasp AI is dedicated to dismantling the obstacles to knowledge exchange, offering a user-friendly interface for effortless online content highlighting and annotation.
This platform serves a diverse audience, including content creators, passionate readers, diligent note-takers, researchers, deep thinkers, students, and anyone in pursuit of enhanced reading and knowledge management processes.
About Glasp AI
| | |
| --- | --- |
| Name of the AI Tool | Glasp AI |
| Vision | To provide access to the highlighted world's information in one click. |
| Category | AI Writing Tool |
| Co-founder & CEO | Kazuki Nakayashiki |
| Founded Year | 2021 |
| Pricing | Freemium |
| Official Website | https://glasp.co/ |
Glasp AI Mission
To make the wealth of knowledge and experiences acquired by individuals over their lifetimes more accessible to everyone, we aim to democratize this utilitarian legacy. Glasp, which stands for "Greatest Legacy Accumulated as Shared Proof," is dedicated to illustrating your impact on the historical record of human knowledge.
Step-by-Step guide to use Glasp AI
Getting Started: To initiate the use of Glasp AI's YouTube summary feature, follow these steps:
1. Installation and Account Creation:
Begin by installing the Glasp Chrome extension and creating your Glasp account. It's important to note that Glasp prioritizes user privacy, with no tracking of browser history or content, and absolutely no selling of user data. Currently, account creation is possible through Google and necessitates a laptop or desktop computer.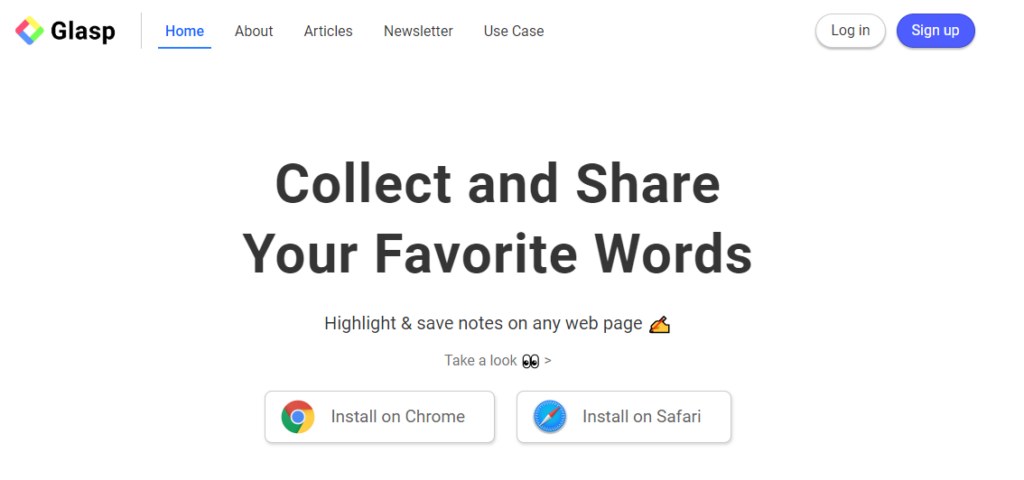 2. Generating a YouTube Summary
After successfully installing the Glasp AI extension and setting up your account, you can start using the YouTube summary feature:
Access the YouTube Summary Page: Navigate to the designated YouTube summary page on Glasp. This is where you can access the tool for summarizing a YouTube video.
Install Glasp AI's Chrome Extension: Simply click the "Install on Chrome" button to add the Glasp AI extension. After installation, it's advisable to pin the extension for easy access.
Open a YouTube Video: Choose the YouTube video you wish to summarize and look for the "Transcript & Summary" option on the right. Click the down-arrow to commence the summary process. Please note that if the video lacks transcripts, the summary feature won't function.
Sign Up or Log In to ChatGPT: The summary function will open ChatGPT's page in a new tab. If you don't have an account, you can create one, or if you already have one, simply log in. Afterward, return to the YouTube video and click the OpenAI icon once more.
Summarize a YouTube Video: Paste all the video's transcripts into the OpenAI page. The system will then begin summarizing the video. Be aware that very long videos, such as those spanning two hours, may encounter difficulties in summarization.
3. Enhancing Your Summary with Highlights
To enrich your summary, Glasp AI Tool provides options to highlight and save parts of the YouTube video's transcripts. Here's how:
Save YouTube Video Transcripts: You can save transcripts from YouTube videos, highlight significant portions, and even replay from specific points. Click the Glasp AI icon on the toolbar and create a Glasp AI account if you haven't already.
Highlight YouTube Video Transcripts: Choose sentences on YouTube to highlight. A popup will appear, allowing you to select a highlight color for the sentence.
View Your YouTube Highlights: You can access all your highlights in the sidebar by clicking the Glasp AI icon on the toolbar. Clicking your profile icon at the top right takes you to your profile page, named "My Highlights," where you can see your highlights and notes, including those from YouTube transcripts, complete with timestamps. Clicking a timestamp opens the YouTube video at that specific point. You also have the option to share your highlights and notes by copying the link to your Glasp AI page.
4. Inner Workings of Glasp
Glasp serves as a bridge connecting individual knowledge with collective learning. It provides a web browser extension that empowers users to highlight text and insert notes directly onto web pages. These highlights are seamlessly integrated into your Glasp homepage, where you can tag, search, and effortlessly share them on platforms such as Twitter, Teams, and Slack. This tool's ultimate goal is to democratize knowledge access, facilitating the sharing of insights and fostering learning from one another in a streamlined fashion.
Glasp AI Pricing
In a landscape where numerous tools come at a significant cost, Glasp distinguishes itself by providing its feature set entirely free of charge! Currently, all features are accessible at no cost, primarily as a browser add-on. Moreover, there's a dedicated Discord community where users can come together to connect, share their insights, and exchange experiences.
6. Glasp AI Key Features
We've extensively explored the offerings of Glasp and have identified numerous outstanding features that deeply impressed us. Here are some of them:
Web Highlighting: Effortlessly highlight quotes, ideas, and thoughts from any webpage.
Organized Collection: Keep your highlights neatly arranged for easy access.
Social Learning: Connect with like-minded individuals and access their highlights.
Digital Legacy: Leave behind a legacy of your online learnings for others to benefit from.
Versatile Compatibility: Seamlessly works with platforms such as Notion, Roam Research, and more.
Browser Extension: A free browser extension that enhances your web browsing experience.
Tagging System: Easily categorize your highlights with tags.
Sharing Capabilities: Share your highlights on platforms like Twitter, Teams, and Slack.
Continuous Updates: The team is continually working to introduce new features and improvements.
User-Centric Design: Designed with the user in mind to ensure a smooth experience.
Discord Community: Engage with other users and share experiences via Discord.
Glasp AI – Pros and Cons
| Pros | Cons |
| --- | --- |
| – Glasp can enhance your learning and writing experience by using AI-powered features | – Glasp may not be compatible with some websites or browsers |
| – Glasp can help you organize and revisit your online reading materials easily | – Glasp may not always produce accurate or relevant AI outputs |
| – Glasp can connect you with a community of learners who share similar interests and insights | – Glasp may raise privacy or ethical concerns about how your data is used or shared |
| – Glasp can save you time and effort by generating personalized summaries and suggestions | – Glasp may require a subscription fee or a limit on the number of highlights or notes you can make |
Glasp AI Use Cases
Our interactions with Glasp have provided us with insights into its diverse potential in real-world applications. Let's explore these applications:
Research Projects: Glasp proves invaluable for collecting and organizing information for various research projects.
Content Creation: For bloggers and writers, it serves as a treasure trove for curating content ideas.
Academic Studies: Students can efficiently highlight and save crucial information for their assignments.
Professional Development: Professionals can easily save and revisit articles relevant to their field of expertise.
Book Clubs: Facilitate sharing and discussing highlighted content from online book reviews or articles.
Hobby Enthusiasts: Whether you're into gardening or tech, you can save tips, tricks, and valuable insights.
News Junkies: Highlight and discuss current events with your network, fostering informed conversations.
Lifelong Learners: Continuously expand your knowledge base with new information, making it a perfect tool for lifelong learners.
Group Collaborations: Collaborate effectively by sharing highlights with team members for group projects.
Personal Growth: It's an ideal companion for self-improvement enthusiasts, allowing them to track their learning journey.
Glasp AI – FAQ
What is Glasp AI?
Glasp AI is a social web highlighter designed for effortless web content organization and knowledge sharing.
Who can use Glasp AI?
Content creators, readers, researchers, students, and anyone seeking improved knowledge management can benefit from Glasp AI.
What's the mission of Glasp AI?
Glasp AI's mission is to make individuals' accumulated knowledge more accessible, democratizing this utilitarian legacy.
How do I use Glasp AI for YouTube summaries?
First, install the Glasp Chrome extension, create an account, access the YouTube summary page, and install the extension. Then, select a video, click "Transcript & Summary," and follow the steps.
What are Glasp AI's pricing details?
Glasp AI offers its feature set for free, primarily as a browser add-on.
What are the key features of Glasp AI?
Key features include web highlighting, organized content collection, social learning, digital legacy, versatile compatibility, a browser extension, tagging system, sharing capabilities, continuous updates, user-centric design, and a Discord community.
What are the pros and cons of using Glasp AI?
Pros include enhanced learning and writing experiences, efficient organization of online reading materials, community connections, and time-saving features. Cons may involve compatibility issues with some websites or browsers and potential privacy concerns.
What are some real-world use cases for Glasp AI?
Glasp AI is valuable for research projects, content creation, academic studies, professional development, book clubs, hobbies, staying updated on current events, continuous learning, group collaborations, and personal growth.
We are sure that you have obtained the necessary information about Glasp AI through this article. To explore more about AI tools, follow aview.in.