What is Wordtune?: Wordtune represents a groundbreaking AI writing companion, offering an exceptional opportunity to enhance your writing. Its purpose is to assist you in refining your writing abilities by offering insights into your writing style, grammar, and spelling. Wordtune distinguishes itself as an AI writing assistant that delivers comprehensive feedback on writing style, grammar, and spelling. What sets Wordtune apart from other AI writing assistants is its utilization of advanced deep-learning technology, enabling it to grasp the context of your writing and offer highly precise feedback.
About Wordtune AI
Name of the AI Tool
Wordtune
Purpose
To help improve your writing skills by giving you feedback on your writing style, grammar, and spelling
Category
AI Writing Tool
Co-Founder & Co-CEO
Ori Goshen
Founded Year
2020
Pricing
Free Plan
Plus – $9.99/ month
Unlimited – $14.99/ month
Business – For teams
Official Website
https://www.wordtune.com/
How to use Wordtune?
To commence, navigate to the Wordtune website and complete the registration process to obtain a free account. Once you've successfully registered, you'll gain access to the Wordtune Editor. This web-based text editor enables you to compose and revise your documents directly within your web browser.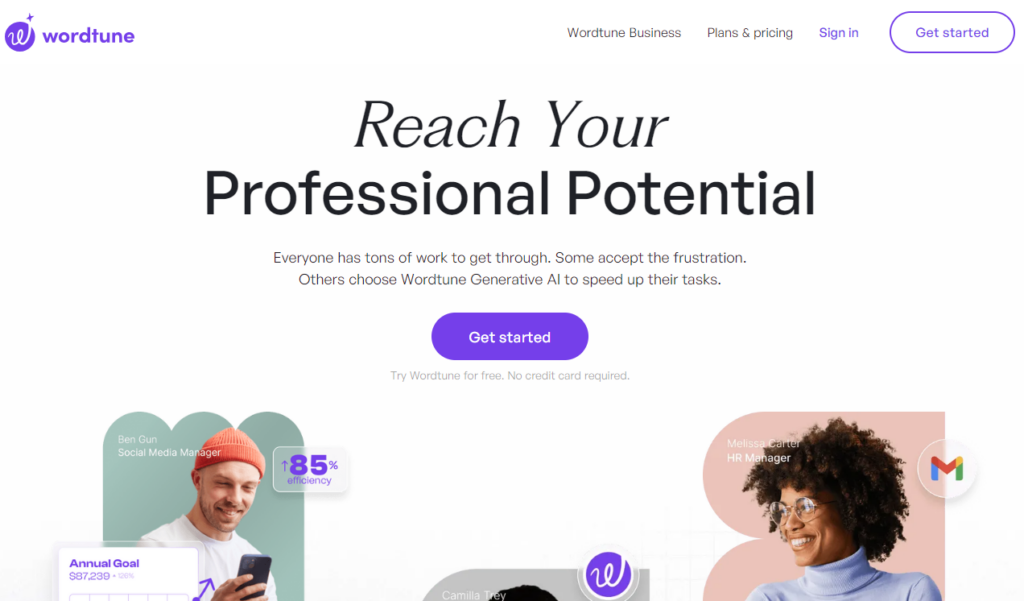 Upon opening the Wordtune Editor, your first encounter will be with the Rewrite prompt. This prompt furnishes you with recommendations for refining your writing. For instance, if you've employed an uncommon word or phrase, the Rewrite prompt will propose a more commonly used alternative.
Should you find the suggestions agreeable, a simple click on one of the recommendations will trigger an automatic update to your text.
Wordtune Pricing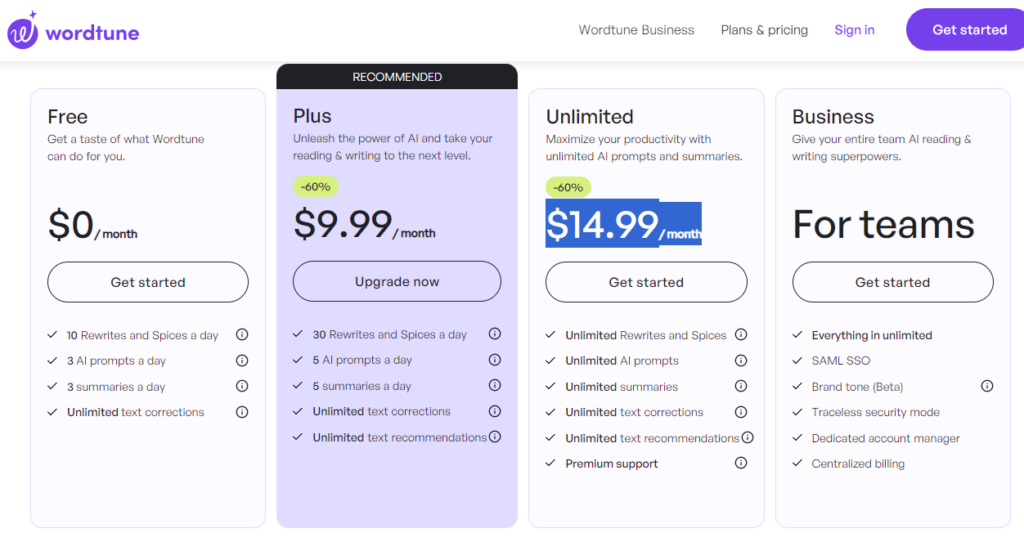 Free
Get a taste of what Wordtune can do for you.
10 Rewrites and Spices a day
3 AI prompts a day
3 summaries a day
Unlimited text corrections
Plus – $9.99/ month
Unleash the power of AI and take your reading & writing to the next level.
30 Rewrites and Spices a day
5 AI prompts a day
5 summaries a day
Unlimited text corrections
Unlimited text recommendations
Unlimited – $14.99/ month
Maximize your productivity with unlimited AI prompts and summaries.
Unlimited Rewrites and Spices
Unlimited AI prompts
Unlimited summaries
Unlimited text corrections
Unlimited text recommendations
Premium support
Business – For teams
Give your entire team AI reading & writing superpowers.
Everything in unlimited
SAML SSO
Brand tone (Beta)
Traceless security mode
Dedicated account manager
Centralized billing
What Websites Does Wordtune Work On?
Wordtune serves as a versatile AI writing companion that operates wherever you need it. This ensures that it functions as your dedicated writing assistant on a variety of popular websites, including:
Google Docs
Gmail
Chrome extension
Microsoft Word (add-in)
LinkedIn
Facebook
Twitter
Slack (web version)
WhatsApp (web version)
Outlook (web version)
Wordtune Features
Wordtune provides a comprehensive array of features designed to elevate your writing. The Wordtune product team consistently introduces new enhancements to further enrich the tool's capabilities.
Here are some of the notable features offered by Wordtune:
Rewrite: This core feature empowers you to effortlessly explore alternative phrasings for single words, entire sentences, or even complete paragraphs. Notably, access to Paragraph Rewrite is currently exclusive to Premium subscribers. Rewrite functionality is available both within the Wordtune Editor and via the browser extension.
Casual and Formal Tones: Wordtune allows you to select between a casual or formal tone to suit your writing style. When using the Wordtune Editor, simply highlight a sentence and choose either the casual or formal option at the top of the editor to receive tailored recommendations. This feature is also accessible through the browser extension.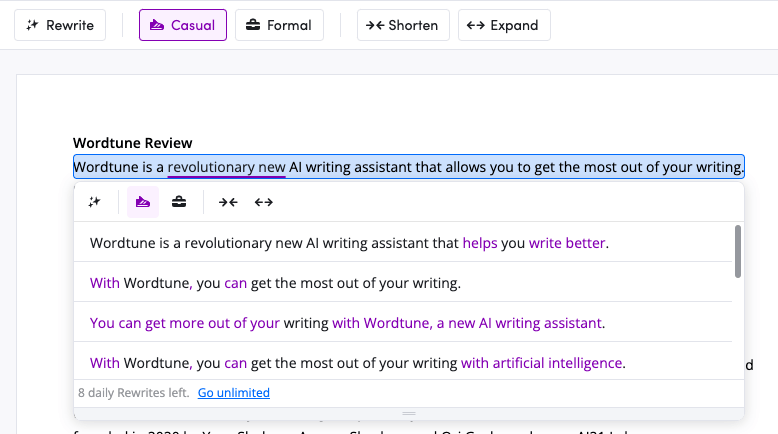 Shorten and Expand: This feature permits you to condense or expand selected sentences. It's particularly useful when you need to make your text more concise or require assistance in elaborating on a sentence.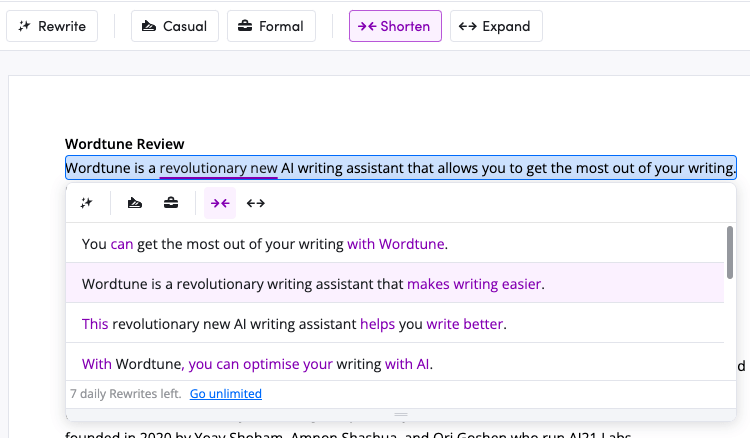 Smart Synonyms: Highlight a word, and Wordtune's AI technology will present you with a list of synonyms that seamlessly fit within the context of your sentence. The AI comprehends the nuances of your sentence, ensuring that the suggested synonyms are contextually appropriate.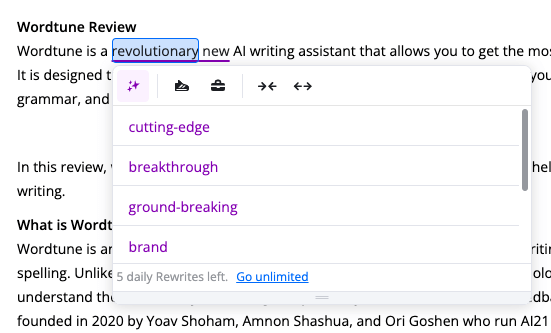 Wordtune Spices: Introduced in 2023, Wordtune Spices are a set of AI writing tools that provide you with the ability to expand on sentences, provide examples, offer statistics, or draw analogies. This feature grants you greater control over your content compared to other AI tools that generate content entirely.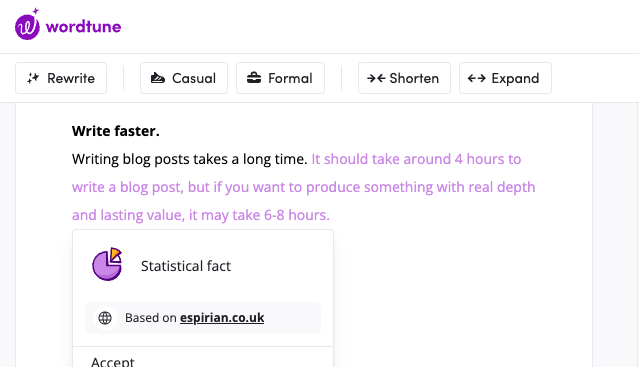 Recommendations and Corrections: When using the Wordtune Editor, you'll benefit from a list of recommendations and grammar checks displayed on the right-hand side of the editor as you write. This proves invaluable, especially when creating lengthy content.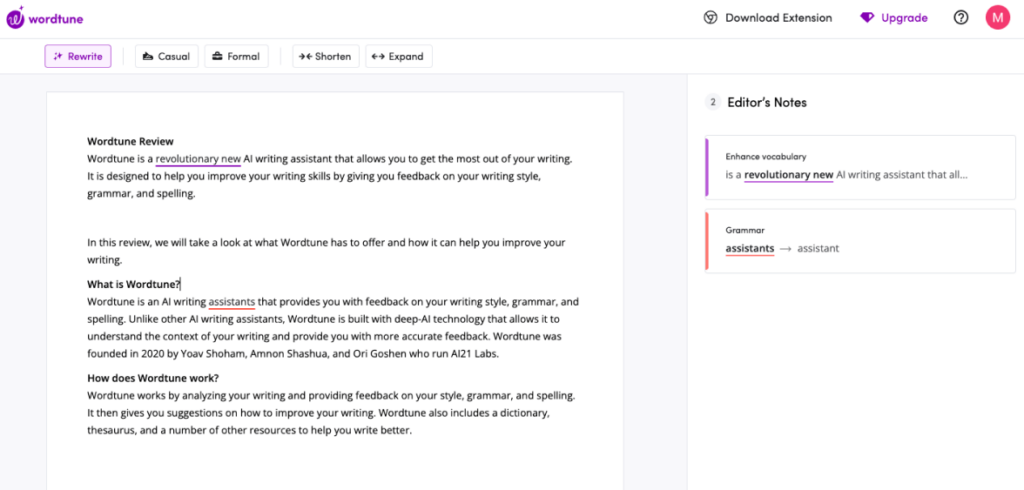 Translate: Wordtune facilitates the rephrasing of words or sentences in foreign languages. For instance, you can input a phrase in a foreign language, and the Rewrite prompt will offer suggestions in your desired language. This feature is particularly helpful for non-native English speakers.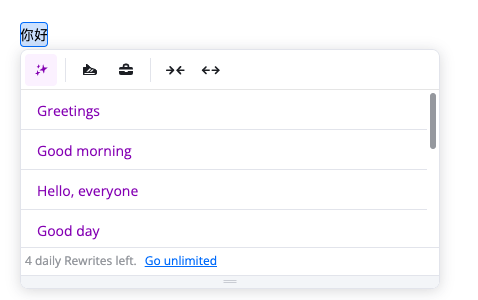 Wordtune Read: Launched in early 2022, Wordtune Read is an AI product that enables users to summarize extensive documents or URLs, streamlining content consumption.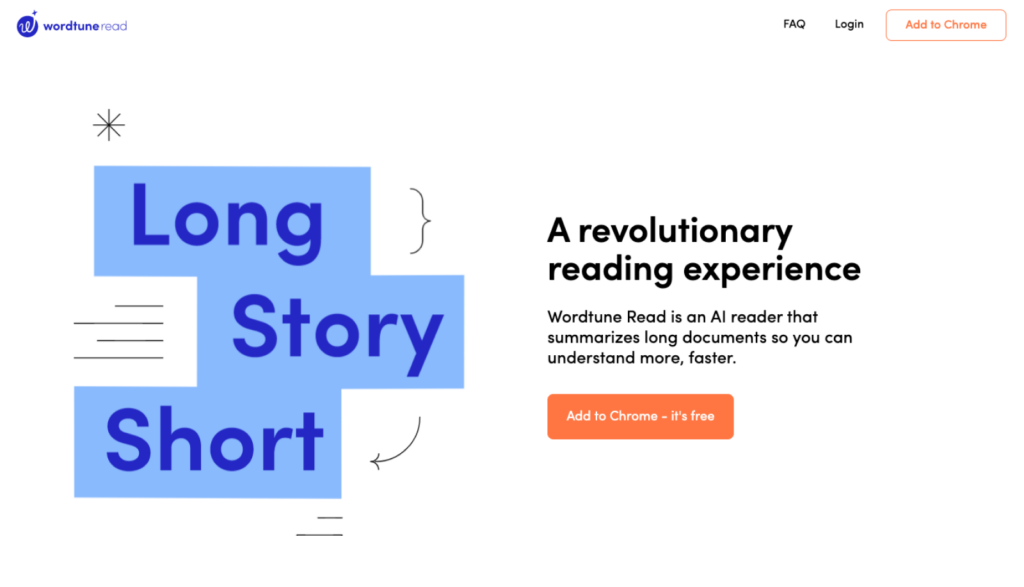 Browser Extensions: Wordtune provides various browser extensions, currently available for Chrome and Edge. These extensions assist you in improving your writing across the web.

Wordtune for Microsoft Word: You can integrate the Wordtune add-in into Microsoft Office, Microsoft 365, or Microsoft Word, enabling you to harness the AI writing assistant's capabilities directly within your Word documents.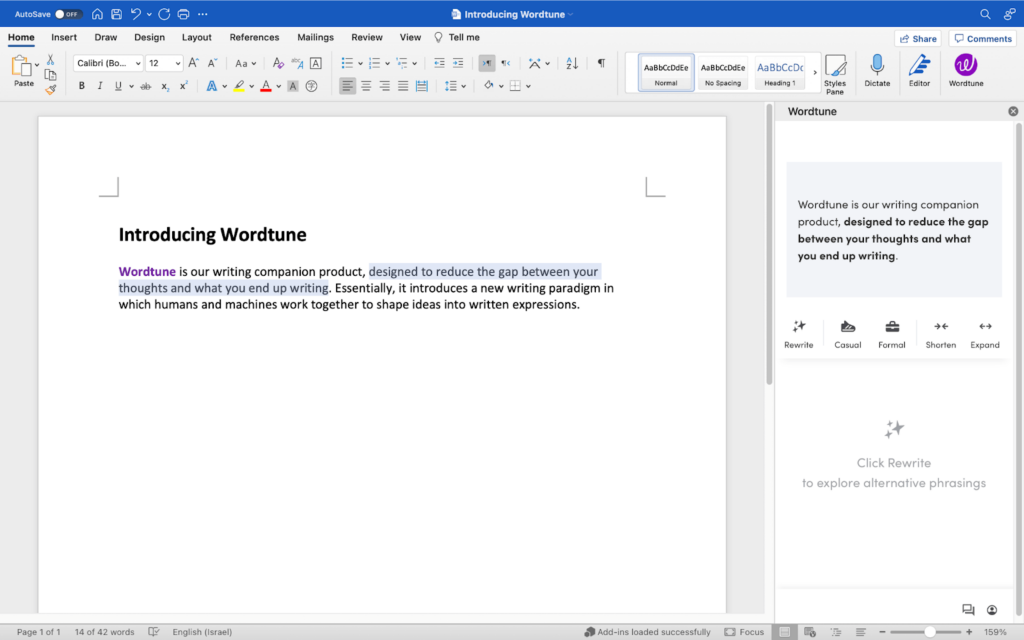 Wordtune Pros and Cons
Wordtune's Pros
Boasts a user-friendly interface (UI).
Aids in enhancing your writing abilities, encompassing proofreading, tone analysis, and more.
Enhances the clarity and conciseness of your writing.
Provides a unified platform for editing your content.
Enhances your English vocabulary.
Encompasses a wide array of features beneficial for writers at all skill levels.
Available as both a Chrome extension and a Microsoft Word add-in.
Wordtune's Cons
Occasionally offers suggestions in repetitive patterns.
Limits free plan users to just 10 editing sessions per day.
Wordtune – FAQ
What is Wordtune?
Wordtune is an advanced AI writing companion designed to enhance your writing by providing feedback on style, grammar, and spelling, with a unique focus on context.
What are the Pricing Plans for Wordtune?
Wordtune offers Free, Plus, and Unlimited pricing plans, priced at $0, $9.99/month, and $14.99/month, respectively.
What websites is Wordtune compatible with?
Wordtune is compatible with various popular websites, including Google Docs, Gmail, LinkedIn, and more.
What are some key features of Wordtune?
Wordtune offers features like Rewrite, Casual and Formal Tones, Shorten and Expand, Smart Synonyms, Recommendations and Corrections, Translate, and Browser Extensions.
What are some advantages of using Wordtune?
Wordtune's pros include a clean user interface, enhancement of writing skills, clarity improvement, vocabulary expansion, and availability as a browser extension and Word add-in.
Are there any drawbacks to using Wordtune?
Wordtune's cons are occasional repetitive suggestions and a limitation of 10 daily editing sessions for free plan users.
How does Wordtune's "Translate" feature work?
Wordtune's "Translate" feature allows you to rephrase words or sentences in a foreign language. It provides suggestions in your desired language based on the input in another language.
What is the Wordtune Premium plan's exclusive feature?
Wordtune's Premium plan exclusively offers access to the "Paragraph Rewrite" feature, which allows rewriting entire paragraphs for more comprehensive editing.
Keep connected with us at Aview to explore further information about AI tools such as Wordtune.