Use of ChatGPT on Telegram: If you are one of those who read our guide on how to use ChatGPT on WhatsApp, you probably enjoyed interacting with the AI bot. Equipped with the latest GPT-4 LLM technology, ChatGPT is a leading artificial intelligence chatbot. If you followed our previous guide on using ChatGPT on Android and iOS, you would be happy to hear that you can now use it on Telegram as well. We have created a user-friendly guide that simplifies the process of using ChatGPT on Telegram, without any complex steps or confusion. So let's get started without any further delay.
How to Use ChatGPT on Telegram?
Hey there, we've been exploring and using different services to make the most out of ChatGPT on Telegram. We've found a bunch of options that work really well, although each individual may have their own preferences. You can take a look at the table below and choose the one that you like best.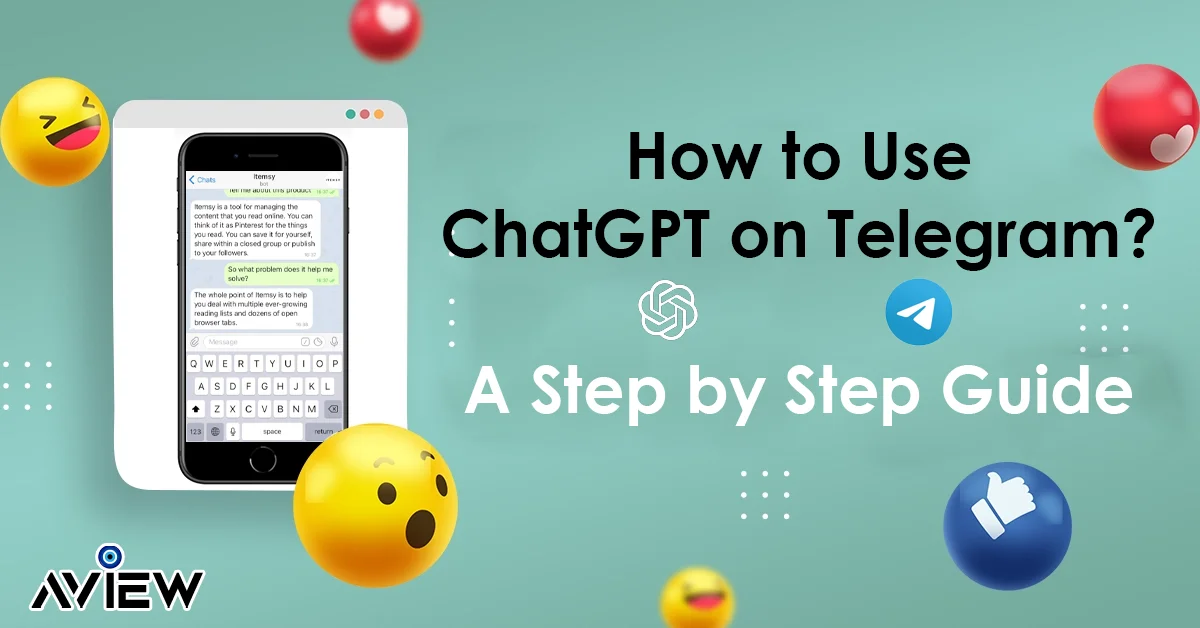 Just a heads up, running chatbots using OpenAI and Telegram APIs can become quite costly. So, we kindly request you consider supporting the developers by purchasing a paid tier of the chatbots. It would be a great help to keep these services running smoothly.
Steps to Use ChatGPT on Telegram Using BuddyGPT
One of the services that we highly recommend for using ChatGPT on Telegram is called BuddyGPT. This chatbot is powered by OpenAI and has the ability to not only generate text but also images. It's quite impressive! BuddyGPT has many other features as well, such as intricate text generation. So, if you're interested in using this chatbot, let's get started with setting it up on Telegram.
Visit the official BuddyGPT website on your mobile device.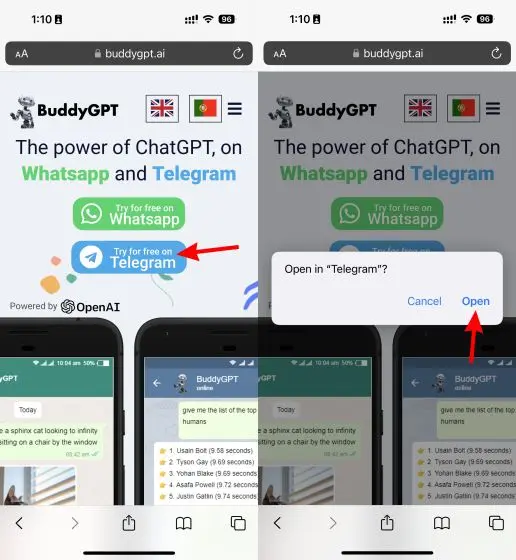 Click on the "Try for free on Telegram" button.
If prompted, tap the "Open" button.
On the chat screen, click on the "Start" button to start chatting with BuddyGPT.
You're all set! You can start chatting with the bot instantly and get responses almost immediately.
It's important to note that BuddyGPT offers only 15 free messages and 5 images per month, which is quite limited. So, try it out to quickly get ChatGPT on Telegram and see if it suits your needs.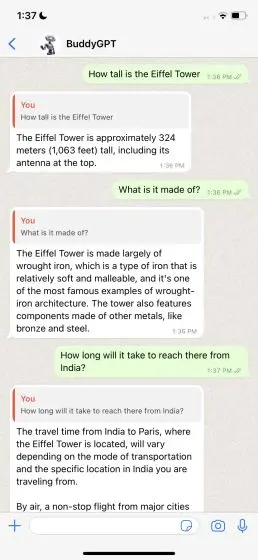 How to Use ChatGPT on Telegram Using Roger da Vinci
Moving on to the next service we recommend for using ChatGPT on Telegram, it's called Roger. Roger da Vinci is an AI chatbot powered by GPT-3 and has a vast range of capabilities. The creators of Roger have ensured that it understands human conversations and its subtleties, so there is a lesser chance of confusion or mistakes. Additionally, this chatbot is currently available to use on Telegram for free.
Visit the official Roger AI website on your mobile device.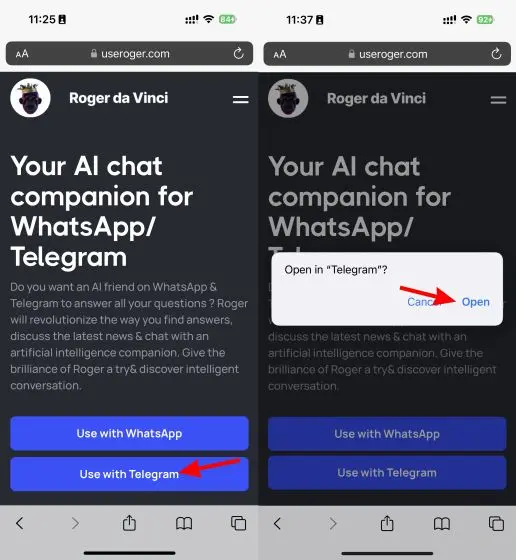 Tap on the "Use with Telegram" button to start the process.
If prompted, tap on the "Open" button.
Roger will automatically send you a start message and prompt you to sign up to gain access.
Click on the link provided to access the sign-up form.
Enter your details, including your country and state, and click on the "Sign Up" button to gain access. Your Telegram ID will be fetched automatically, so don't worry about that.
Once you've signed up, you'll receive a confirmation message with your access granted.
Tap on "OK" to go back to Telegram and start using ChatGPT.
You're all set! Start talking to Roger AI right away. It responds quickly and effectively and can perform various tasks, including writing poems, and essays, answering questions, and generating code.
As mentioned earlier, Roger is entirely free to use with no message limit for now. So, take advantage of this opportunity to use ChatGPT on Telegram effortlessly.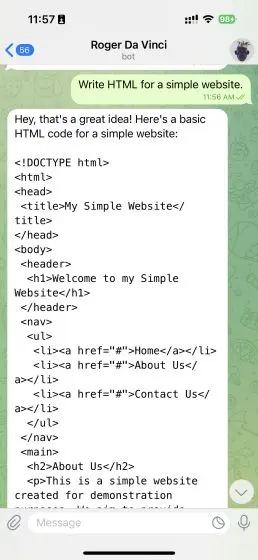 Steps to Use ChatGP on Telegram Using ChatGPT Bot
The following service we will be using to enhance our ChatGPT experience on Telegram is the ChatGPT bot, which shares the same name as the language model. Developed by software developer Gregori Piñeres, this Telegram bot is based on the GPT-3 family of LLMs, just like its competitors. The bot is capable of generating various types of content, from creative to methodical. To set it up on Telegram, let's get started with the following steps.
Click on the Telegram link provided here and tap the "Open" button to launch the bot on your mobile.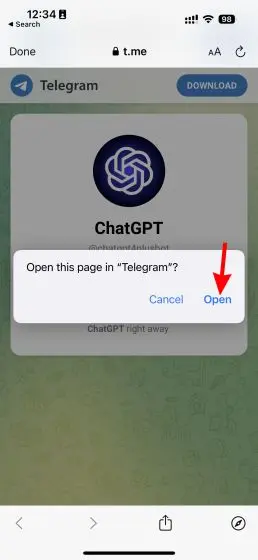 Once the bot opens, click on the "Start" button to initiate the conversation and receive a warm welcome from the ChatGPT bot.
Congratulations! You're all set to start generating all sorts of text using the ChatGPT bot on Telegram. From translating text to answering your questions, this bot can do it all. However, keep in mind that you have a daily limit of 30 free messages. If you need more, you can upgrade to the premium tier starting at $5 per month, which gives you access to 100 messages.

We hope that the steps we provided for setting up and using ChatGPT on Telegram using these AI bots were helpful to you. But if you're still interested in exploring more options, you can try using ChatGPT on Siri. And for those who want to have ChatGPT on the go, you can even set it up on your Apple Watch. However, if you're looking for alternatives to ChatGPT, we have compiled a list of some of the best ones available. So don't hesitate to check them out!
FAQs on How to Use ChatGPT on Telegram
Can I use ChatGPT on Telegram?
Yes, you can use ChatGPT on Telegram by setting it up with various ChatGPT bots available on the platform.
What are some ChatGPT bots on Telegram that I can use?
Some of the ChatGPT bots available on Telegram are BuddyGPT, Roger, and ChatGPT bot.
How do I set up ChatGPT on Telegram?
The setup process varies slightly depending on the ChatGPT bot you are using, but generally, you need to visit the bot's website, click on the Telegram link or button, and follow the instructions provided.
What can I do with ChatGPT on Telegram?
You can use ChatGPT on Telegram to generate a wide variety of content including text, code, poems, and essays. It can also answer questions and provide translations.