What is Mage Space?: Mage Space is a remarkable art generator capable of transforming text descriptions into images. With the aid of AI art prompts, users can articulate the image they envision, and Mage Space will bring it to life. This AI image generator, Mage Space, possesses the ability to translate your imagination into digital images. As long as you can provide a description, Mage Space can craft it into a visual reality.
What's even more enticing is that Mage Space operates as an online platform that's entirely free. It extends an open invitation for users to "create anything." By utilizing AI art prompts, you can conjure images encompassing a wide spectrum, from character and product concepts to logos and fictional settings, all achieved with just a few clicks.
About Mage Space AI
Name of the AI Tool
Mage Space
Purpose
To create images from text
Category
Arts
Pricing
Free Plan – For everyone
Basic Plan – 4$ per month
Pro Plan – 15$ per month
Founded Year
2019
Official Website
https://www.mage.space/
How to use Mage Space?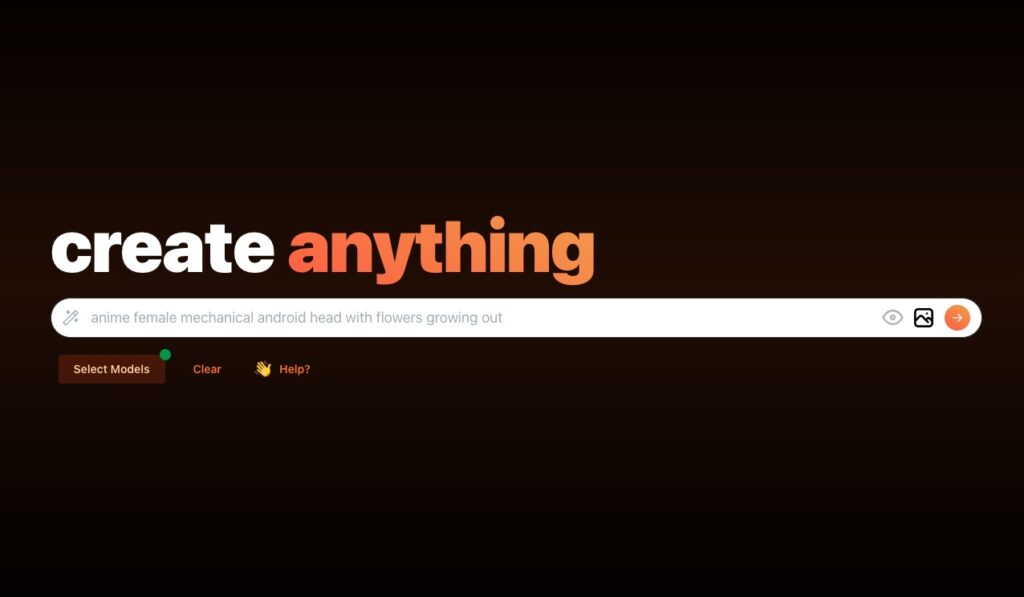 Mage Space offers a user-friendly experience, particularly for free users. To get started, you'll find a text bar on the homepage, where you can simply describe the image you want to create. The process is as straightforward as typing in your image description and hitting the enter key or clicking the arrow at the end of the text bar.
Alternatively, there are other image generation methods at your disposal. You can link to or upload an existing image you wish to replicate. In such cases, Mage Space analyzes the image and automatically generates a prompt to create a new, similar image.
In summary, the basic process for generating images involves two simple steps:
Entering an AI art prompt, linking an image, or uploading an image.
Generating the image by hitting enter on your keyboard or clicking the arrow.
The entire process typically takes less than a minute. Once the generated image is presented, you have several options:
View image data, including details like the text-to-image model, image dimensions, creation date, and more.
Copy the image prompt for saving or pasting elsewhere.
Copy the generated image's URL.
Download the image.
Add tags (hashtags) for categorization.
Regarding image enhancement, Mage Space offers three choices: "Upscale + Face Fix," "Upscale Only," and "Upscale Pro."
Mage Space Pricing
Mage Space Free Plan – What does it offer?
It's worth noting that Mage Space is entirely free to use, with no time constraints. Registration is optional, but it offers added user benefits like image saving and the ability to follow other users.
However, it's important to be aware of the limitations that come with the free plan. Here's what's included:
Unlimited AI image generation
Unlimited privacy settings
Unlimited image enhancement options
On the flip side, there are some restrictions for free users:
No image generation using links or uploads (text prompts only)
Access to the base text-to-image model only (Stable Diffusion v1.5)
Limited to one image enhancement feature ("Upscale + Face Fix")
GIF creation is not available
To unlock these features and remove these limitations, you can opt for one of Mage Space's subscription plans.
mage.space membership plans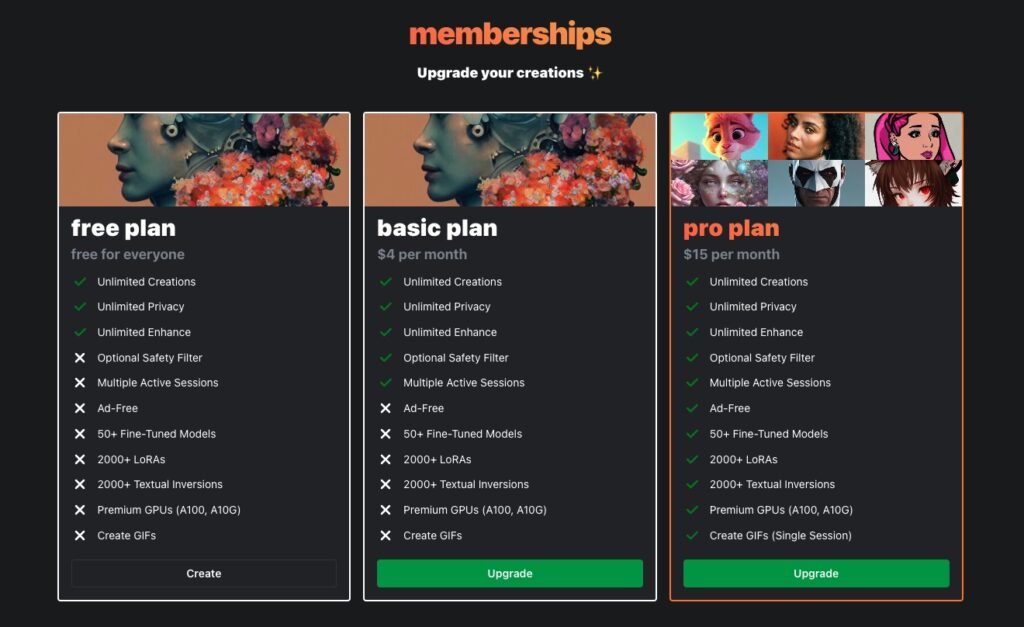 Mage Space presents two distinct membership plans: the Basic Plan and the Pro Plan.
The Basic Plan, while affordably priced, offers minimal additional benefits compared to the Free Plan. Its extra features include an optional safety filter and the ability to have multiple active sessions.
In contrast, the Pro Plan provides comprehensive access to Mage Space's full array of offerings, which encompasses:
An ad-free experience
Unrestricted access to over 50 image AI models
GIF creation capabilities
Over 2000 LoRAs and 2000+ textual inversions
Access to premium GPUs, enhancing the speed and power of AI image generation
Undoubtedly, the Pro Plan comes at a higher cost than the Basic Plan, but it offers a substantial increase in features and capabilities.
Mage Space Features
Mage.Space provides an extensive array of AI models, exceeding 60 in number, encompassing custom models like Text-to-image and Text-to-GIF generators, opening up a wide spectrum of creative possibilities.
Enhancing the quality of output images, the tool automatically upscales images to a 2048×2048 resolution, ensuring high-quality results.
With a user-friendly interface, Mage.Space simplifies the image generation process, making it quick and hassle-free.
Users have the flexibility to fine-tune their image creation by adjusting the guidance scale, governing how closely the AI adheres to provided prompts during image generation.
An innovative "Negative Prompts" feature enables users to specify elements they wish to avoid in their generated images.
For privacy-conscious users, Mage.Space offers the choice to generate images privately, granting control over the visibility of their creations.
Mage.Space also facilitates the re-running and remixing of generated images, fostering the creation of unique artwork with each iteration.
The "Image-to-Image" feature simplifies image enhancement while ensuring alignment with the given prompt, making the process straightforward and effective.
Mage Space AI Use Cases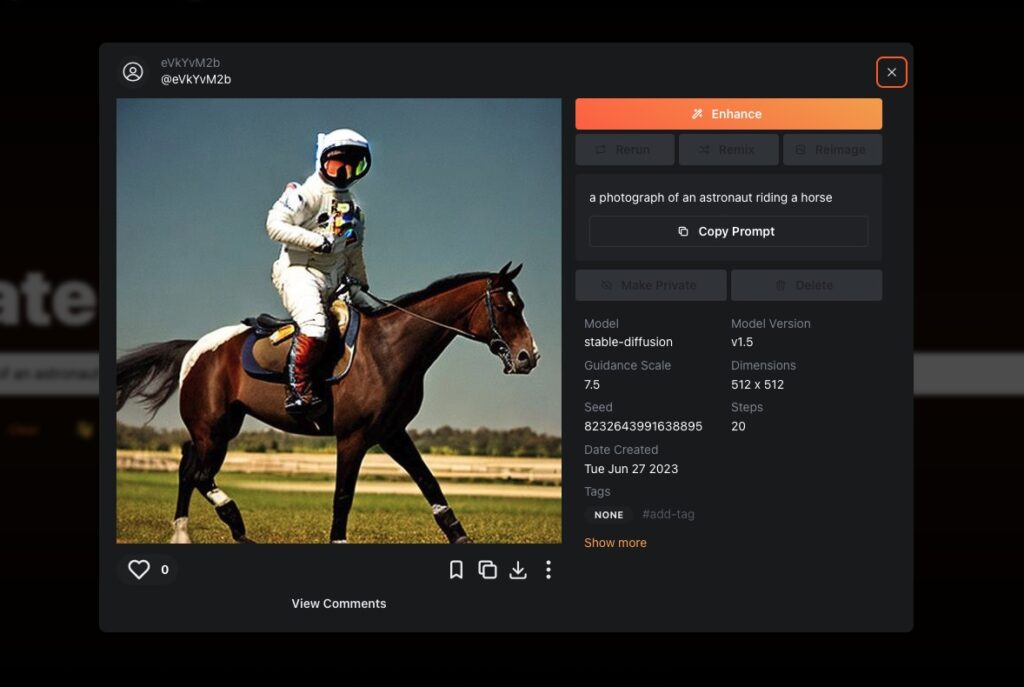 Generating images with artificial intelligence is undoubtedly enjoyable, but can AI image generation extend its significance to more meaningful applications in today's world?
The concise answer is affirmative. Here, we delve into the primary AI use cases for Mage.space, exploring how its advanced AI technology can serve various users.
Creating Original Image Content: Mage Space proves invaluable for bloggers, content creators, and digital marketers, allowing them to effortlessly produce original image content. By employing AI art prompts, users can craft relevant image content for a variety of purposes, eliminating the need to source stock photos or manually create images.
Inspiring Artists: Mage Space functions as an inspiring wellspring for artists, graphic designers, and more. Artists can utilize the AI image generation tool to generate visual concepts for their own artwork or use the generated images as references or subjects for their creations – all without the concerns of copyright infringement or art plagiarism.
Inspiring Creative Writers: Mage Space offers a valuable tool for creative writers, particularly novelists. It can serve as a wellspring for character ideas and settings, sparking the creative process. Furthermore, it can generate comprehensive character and world-building artwork for professional use, allowing novelists to breathe life into their imaginative creations with tangible visuals.
Mage Space – FAQ
What is Mage Space and how does it work?
Mage Space is an AI art generator that transforms text descriptions into images, allowing users to describe the image they want, and Mage Space will create it. It's an online platform that's entirely free and user-friendly.
How can I use Mage Space to generate images?
You can use Mage Space by simply describing the image you want in the text bar on the homepage, or you can link to or upload an existing image. Then, hit enter, and the image will be generated in less than a minute.
What are the pricing options for Mage Space?
Mage Space offers a Free Plan with unlimited AI image generation and two premium plans: Basic Plan at $4 per month and Pro Plan at $15 per month, each with additional features.
What features does the Mage Space Pro Plan offer?
The Pro Plan includes an ad-free experience, access to over 50 image AI models, GIF creation capabilities, a large number of LoRAs, textual inversions, and access to premium GPUs for faster image generation.
How many AI models are available on Mage Space?
Mage Space offers over 60 AI models, including Text-to-image and Text-to-GIF generators, providing a wide range of creative possibilities.
Can I generate images privately on Mage Space?
Yes, Mage Space offers privacy settings that allow you to generate images privately and control their visibility.
What are some practical use cases for Mage Space's AI image generation?
Mage Space is useful for creating original image content for bloggers and content creators, inspiring artists and graphic designers, and providing creative writers with character and world-building artwork for their novels, among other applications.
To learn about more AI tools like Mage Space, stay in tune with aview.