Best ChatGPT Alternatives: You've probably heard of ChatGPT, the popular chatbot developed by OpenAI. ChatGPT allows users to engage in a conversation with AI by entering prompts, and with the recent launch of the more powerful GPT-4 model, the bot has become even more impressive. Unfortunately, the downside of this popularity is that ChatGPT's servers are often overloaded with users, which can lead to users being locked out of the service. If you're one of the many people who can't access ChatGPT or are looking for other similar services to try, you've come to the right place. In this guide, we've compiled a list of ChatGPT alternatives that you can try out. So, open up some additional tabs in your browser, and let's chat with some AI bots!
ChatGPT Alternatives
ChatGPT is an AI chatbot that has some great pros and cons to consider before using it. One of the pros is that it can help you improve your writing skills by generating text based on any prompt you input, from emails and essays to raps and grocery lists. It's also able to converse with you on a range of topics, whether they're simple or complex, making it an ideal companion for those looking to improve their conversational skills. Moreover, ChatGPT is proficient in STEM and can write and debug code, as well as solve complex math equations.
However, one of the biggest cons of ChatGPT is that it's not always available. Due to its immense popularity, it can often be at capacity, meaning you may have to wait to use it. Additionally, it's not always connected to the internet, which can be an issue if you need to use it on the go.
Another thing to keep in mind is that ChatGPT uses OpenAI's GPT-4, which can be both a pro and a con. While GPT4 is incredibly powerful and can do things like text generation, solving math problems, and coding, it's also been criticized for its potential to be used for malicious purposes. Finally, while the service is currently completely free to the public, there is talk of a professional version being released at a monthly cost in the future.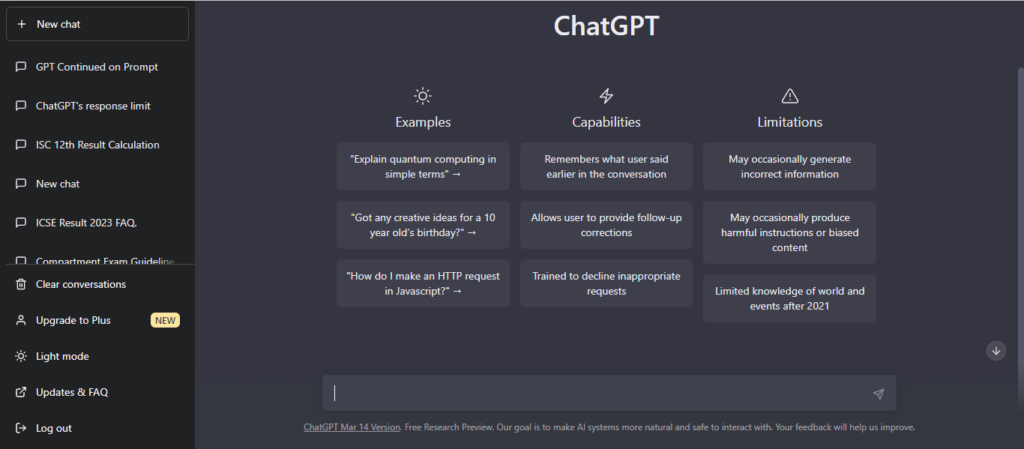 Best ChatGPT Alternatives in 2023
While we've discussed ChatGPT, there are several other AI tools worth exploring. The following table showcases a variety of options that may pique your interest. Take a look and see which ones appeal to you the most.
1. Google Bard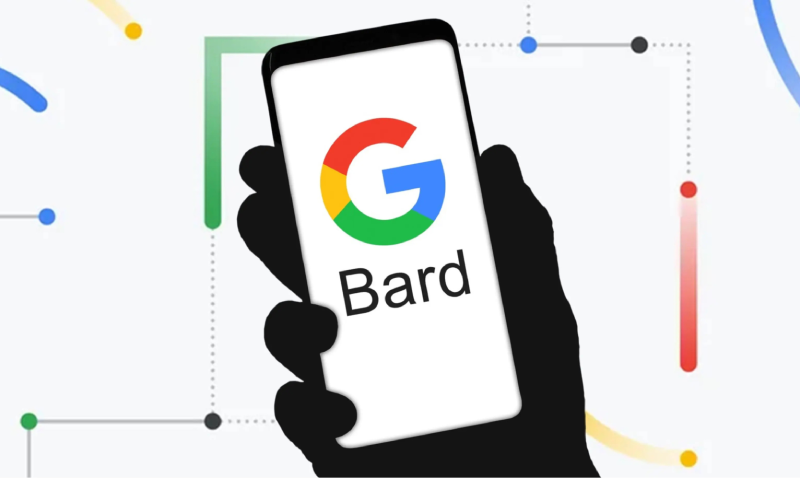 Following ChatGPT's viral success, many users have been eagerly anticipating Google's entry into the chatbot AI space. However, the company had been hesitant to release its own service, citing concerns about potential misuse. That has since changed, and in a recent blog post, Google CEO Sundar Pichai announced the release of Google Bard – an experimental conversational AI service. Powered by a lightweight version of LaMDA, Google's next-generation language and conversational model, Bard offers a promising new option for users looking to explore the world of chatbot AI.
Google has announced that its new conversational AI service, Bard, aims to combine the vastness of the world's knowledge with the intelligence and creativity of its language models. One key advantage that Bard has over ChatGPT is that it draws on the latest information from the web to provide up-to-date responses, giving it an edge over ChatGPT, whose dataset only extends up to 2021.
Currently, Bard is only available to a select group of "trusted testers." Although there has been no official announcement regarding the integration of Bard into Google's search engine, the company has expressed plans to introduce new AI-powered features to Google Search. This includes displaying quick answers to questions at the top of search results. As Bard is released to the wider public, we may see it competing directly with ChatGPT in the world of conversational AI.
2. Microsoft Bing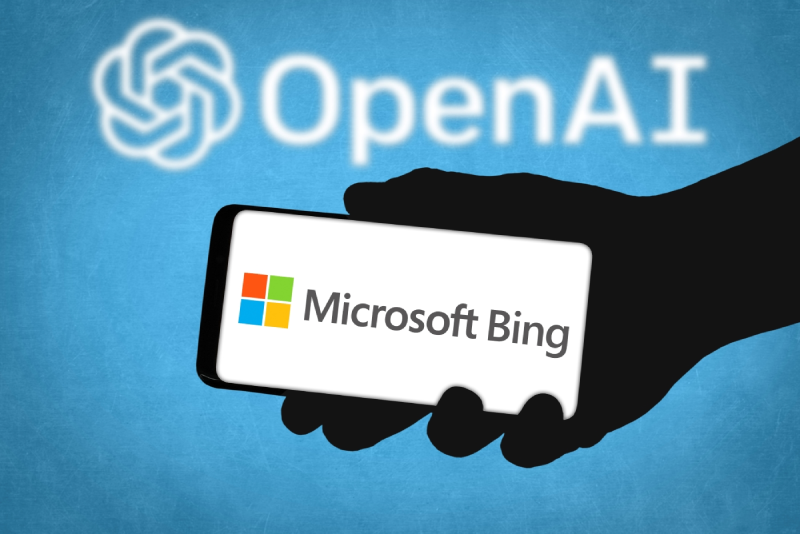 Google is not the only major player vying for a share of the AI market. Microsoft, which has recently announced plans to invest $10 billion in OpenAI (the company behind ChatGPT), has unveiled its upgraded MS Bing search engine. The revamped search engine is powered by an upgraded model of ChatGPT, which Microsoft is calling its "Prometheus model." According to Microsoft, this new model is faster and more accurate than any previous iteration.
The new version of MS Bing also includes a Chat mode, which enables users to ask contextual questions based on web queries. During a recent event, Microsoft demonstrated this feature by showing how users could ask for TV recommendations and then use Bing to filter the list. Like ChatGPT, Bing also offers users the ability to plan trips, find recipes, seek out advice, and more.
Although it is currently in limited preview, Bing will be free to use once it is released. If you're interested in trying out this ChatGPT alternative, you can join the waitlist and keep an eye out for updates.
3. Chatsonic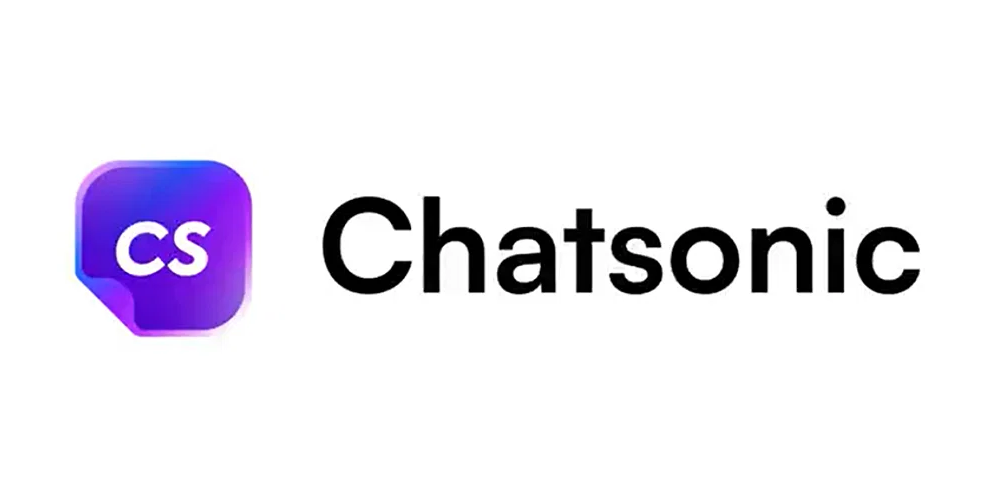 One of the most recent and promising alternatives to ChatGPT is Chatsonic. This AI chatbot is built on top of the ChatGPT platform, which means it has access to the same vast potential. However, Chatsonic goes one step further by providing users with access to the internet, which is a capability that ChatGPT currently lacks. As a result, Chatsonic is able to draw on a wider range of knowledge and features, making it a highly versatile tool.
Chatsonic is an AI chatbot that has the capability to provide accurate information by utilizing internet results. It has a feature that remembers previous conversations, making it easier to continue discussions. With 16 different personas available, ranging from an accountant to a poet, Chatsonic offers the option of having diverse conversations. Unlike ChatGPT, Chatsonic can respond using voice, and users can talk to it via their microphone. After the conversation, users can share the replies in links or Word/PDF docs. In my experience, Chatsonic performed well and was able to present information more effectively than ChatGPT because of its access to the internet and up-to-date information.
| Pros | Cons |
| --- | --- |
| Internet access brings broader knowledge | Only 25 free generations |
| Different personas bring variety to conversations | – |
| Companion browser extension and Android app | – |
| Can read the response back | – |
4. Jasper Chat

Jasper has been offering AI-generated content for a while now and has been quite popular among users. Along with content generation, Jasper has also developed a new chatbot called Jasper Chat. This ChatGPT alternative is based on GPT 3.5, and it has partnered with OpenAI. However, unlike ChatGPT, which is suitable for anyone, JasperChat is specifically designed for businesses in advertising, marketing, and related fields.
Jasper Chat is an AI chatbot that can be used by anyone looking for a virtual assistant similar to ChatGPT. The company claims that Jasper Chat has learned from billions of articles and other information in 29 different languages, though the information may not be the most current. Despite this, Jasper Chat can still engage in medium to complex conversations, and there is a toggle that allows access to Google search data, adding to its power.
I found Jasper Chat to be a great chat companion during my interaction with it. I asked it various riddles, had it write video scripts, tell me jokes, and even tongue twisters. It was also successful in writing ad copy. Jasper Chat has contextual memory, so it can remember previous prompts. However, it is important to note that Jasper Chat is not a research engine, and all outputs should be verified for accuracy.
| Pros | Cons |
| --- | --- |
| Can hold intelligent conversations | Locked behind an expensive paywall |
| A boon for marketers and working professionals | Slightly old dataset |
5. Character AI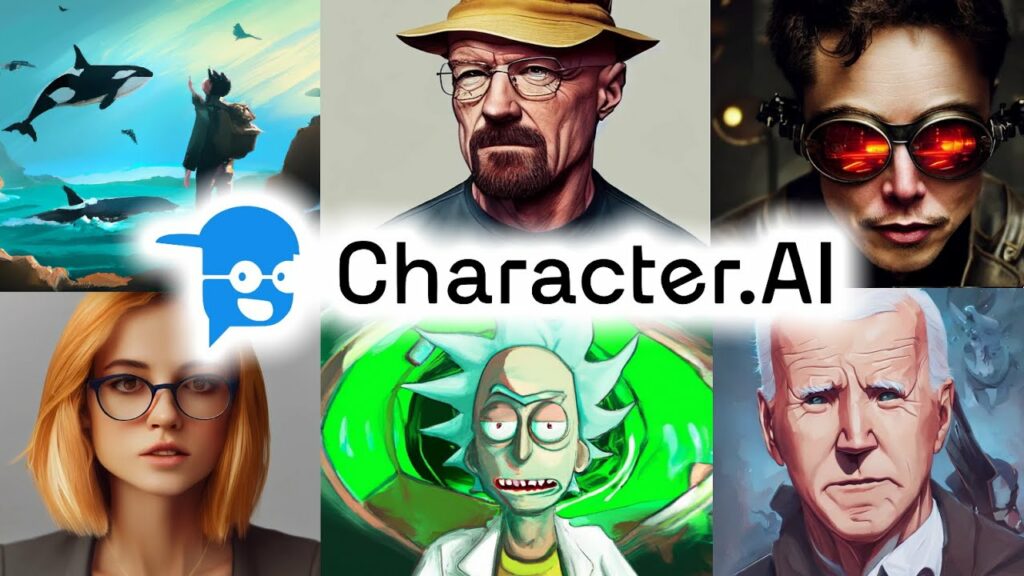 Character AI is a unique ChatGPT alternative that is based on neural language models specifically trained for conversations. Unlike other chatbots, this AI focuses on personas, and users can choose from various personalities to interact with. Character AI has been developed to provide a more personalized and engaging experience, and its advanced neural language models ensure that it is capable of understanding and responding to user queries efficiently.
On the homepage of Character AI, you can find a wide range of personalities, from Elon Musk and Tony Stark to Socrates, Joe Biden, and Kanye West. What makes this AI chatbot unique is that it changes its conversational style based on the character you choose. For instance, my conversation with Kanye was egotistical, while my chat with Socrates was peaceful. Additionally, the AI chatbot has the capability to respond using different voices, depending on the character.
Creating a character on Character AI is enjoyable and customizable. I was able to design my character, including their name, greeting, description, voice, and avatar using the built-in image generator. After creating the character, I could immediately start chatting and even share it with others.
| Pros | Cons |
| --- | --- |
| Vast character selection | Slower than usual responses |
| Interesting conversations with different characters | – |
| Creating your own character is fun | – |
6. YouChat
YouChat is an AI chatbot that is similar to ChatGPT, but it has a unique feature that sets it apart. It is integrated with a search engine of the same name, which means that users can get search results and chat with the bot at the same time. YouChat is trained on an upgraded large language model like ChatGPT, giving it the ability to hold conversations with users and access the internet for the latest information. This feature ensures that the bot provides accurate answers not only in chat but also alongside search results.
Using YouChat is incredibly simple – all you have to do is visit the chat page and type in your query to begin chatting. Like ChatGPT, YouChat can provide a variety of information, including coding, advice, simplifying complex concepts, summarizing books, and much more. However, occasionally the bot might not be able to provide an answer and simply mention that it cannot do so at the moment.
While YouChat lacks additional features such as microphone input, chat sharing, or personalized characters, it compensates for this by having an updated information bank, which is impressive. Best of all, YouChat is completely free to use, so all you need to do is go to the website and start chatting.
| Pros | Cons |
| --- | --- |
| Chatbot provides up-to-date information | Bot glitches out and refuses to answer sometimes |
| ChatGPT-like functionality so you don't miss out | Not much besides chatting |
7. OpenAI Playground
It's important to note that OpenAI Playground isn't intended for casual users. However, if you're interested in experiencing the capabilities of ChatGPT and don't have access to it, then OpenAI Playground is worth trying. This online tool functions like ChatGPT, but it offers more advanced options, such as the ability to select a specific language model for experimentation.
After choosing the language model, you can adjust other settings such as the randomness of the model, number of tokens, frequency penalty, and stop sequences, among others. OpenAI Playground isn't user-friendly and isn't recommended for everyday users, but it is a valuable resource for those with experience who want to experiment with various models before creating an AI tool.
OpenAI Playground is a demonstration version of the ChatGPT service, which means that its outputs are comparable to ChatGPT and provide a good representation of the actual service. You can test out some of the interesting ChatGPT prompts discussed in this article. The bot takes input and provides a reasonably accurate response, depending on the language model. This chatbot demo also supports speech-to-text inputs, and you can even upload an audio recording.
Unlike some other AI bots, Playground doesn't slow down and provides quick responses. It's also free to use, provided that you sign up for an account. If you're unable to access ChatGPT, give OpenAI Playground a try. However, please be aware that just like ChatGPT, you may lose access if the server is in high demand.
| Pros | Cons |
| --- | --- |
| Spoiled for choice with language learning models | Not for everyday users |
| ChatGPT level accuracy and response speed | – |
8. DialoGPT
Although GODEL AI has surpassed it, Microsoft's DialoGPT remains a free and entertaining AI chatbot to use. It has been trained on a dataset of 147 million multi-turn dialogues from Reddit, which is relatively small compared to other models. The AI also supports multi-turn responses, allowing it to remember previous interactions. Setting up DialoGPT can be complicated, but you can use HuggingFace's inference API to test it out. The AI provides a list of prompts you can use, or you can create your own and see how DialoGPT responds.
However, it's worth noting that DialoGPT's responses are not always accurate. The chatbot is designed to have a cheerful disposition, which can sometimes lead to confusion. For example, when asked about a traumatic event, DialoGPT may not recognize it but will still respond in a positive manner. As a result, users should not rely on DialoGPT for sensitive or critical conversations.
In my experience, DialoGPT's contextual awareness wasn't impressive as it often forgot the conversation's context. However, this could be because it's not entirely trained and operates on an API. Additionally, it doesn't offer any advanced features like model selection, microphone input, or image generation.
DialoGPT is free to use, but it may not be the cutting-edge AI solution you're looking for. Nevertheless, it can serve the purpose if you need a basic chatbot for casual conversations.
| Pros | Cons |
| --- | --- |
| Casual and lighthearted chatbot | Not very smart with responses |
| Simple and easy to use | Didn't remember previous answers. |
9. Perplexity AI
Perplexity AI is an alternative to ChatGPT that has been trained using OpenAI's API and delivers impressive responses. The website is designed in a minimalist way and is user-friendly. Perplexity offers similar features as ChatGPT, allowing you to hold conversations and receive responses that range from basic to sophisticated. What sets Perplexity apart is that it provides the sources it used to generate the responses, giving users the opportunity to explore the data that the AI utilized. While this is a valuable feature, it also exposes Perplexity to the risk of unintentional plagiarism.
Perplexity AI is impressive in the sense that it cites the source for every sentence it produces, similar to Wikipedia. During my interactions with the AI, I found that it derived its responses from credible sources, and I couldn't detect any copy-pasting. However, Perplexity AI lacks the ability to remember previous prompts for multi-turn responses. It also does not offer any other means of interaction besides text, such as talkback or personas. Despite these limitations, the chatbot is able to hold its own in conversations without sounding confused. Plus, it offers a neat dark mode feature on its website.
The best part about Perplexity AI is that it is completely free and does not require an account to use. So, if you're looking for a ChatGPT-like tool that provides credible sources for its responses, Perplexity AI is worth a try.
| Pros | Cons |
| --- | --- |
| Holds good conversations without being confused | Might accidentally copy from sources |
| Cites sources with answers | No additional features |
| Minimalist website layout | Can't remember past responses |
10. Caktus AI
The ChatGPT alternatives mentioned earlier offer various features, but Caktus AI is different as it is designed exclusively for students. According to the developers, Caktus is the first AI tool that helps students automate their homework, freeing up time for other activities. It includes a range of student-focused tools, such as essay and paragraph writers, discussion and question generators, and even coding assistance. Additionally, students can access language tutors and custom cover letter writers to receive help with their careers and language skills.
One of the impressive things about Caktus AI is its ease of use. Users can simply choose a tool and start working on their assignments. I personally tried out several of its tools, such as the cover letter writer, personal statement writer, essay writer, and grammar fixer, and was impressed by the speed and quality of the outputs. In terms of essays, Caktus even provides cited sources to ensure that students have accurate information to work with.
| Pros | Cons |
| --- | --- |
| Dedicated AI to help students | No free trial |
| A mixture of helpful educational tools | – |
| Cites sources for accurate information | – |
FAQs on ChatGPT Alternatives
What are ChatGPT alternatives?
ChatGPT alternatives are AI-powered chatbots that can understand and respond to natural language inputs like ChatGPT. These alternatives are built on different language models, such as GPT-2, GPT-3, and DialoGPT, and offer different features and capabilities.
Why would I use a ChatGPT alternative?
ChatGPT alternatives can be useful if you want to try out different AI chatbots and see which one works best for your needs. Some alternatives may offer features that ChatGPT doesn't have, such as voice recognition or image generation.
Are ChatGPT alternatives as good as ChatGPT?
The quality of ChatGPT alternatives can vary, depending on the language model and other factors. Some alternatives may provide better or worse results depending on the input or context of the conversation. However, many ChatGPT alternatives are still quite good and can provide accurate and helpful responses.
Are ChatGPT alternatives free to use?
Many ChatGPT alternatives are free to use, while others may require a paid subscription or account. It's important to check the specific details of each alternative before using it to ensure you understand any costs or limitations.
Can I use ChatGPT alternatives for business or commercial purposes?
It depends on the specific terms and conditions of each alternative. Some may allow commercial use, while others may prohibit it or require a separate license or agreement. It's important to read the terms and conditions carefully before using any AI chatbot for business or commercial purposes.