What is Fy! Studio? Fy! Studio represents an AI-powered platform for crafting art through artificial intelligence. It leverages cutting-edge machine learning technology to produce distinctive, high-quality artwork while emphasizing creativity and personalization.
Fy Studio grants users access to a repository of pre-existing AI-generated art pieces or the option to upload their own images for customization employing various AI tools.
Furthermore, users can tailor the artwork to their liking, infusing it with personal touches to achieve genuine uniqueness. Fy! Studio enables the effortless creation of exquisite AI-generated art, eliminating the need for a deep understanding of artificial intelligence or machine learning.
This platform boasts an intuitive, user-friendly interface that simplifies and enriches the art creation process with AI. Moreover, it offers a wide range of advanced features, allowing users to fine-tune their artwork, from choosing color palettes to adjusting textures and more.
With Fy! Studio, crafting exceptional AI-generated art is a quick and straightforward endeavor.
About Fy! Studio
| | |
| --- | --- |
| Name of the AI Tool | Fy! Studio |
| Purpose | To create art using artificial intelligence |
| Category | Arts |
| Fy! Studio Pricing | Starting $15 |
| Official Website | https://www.iamfy.co/ |
How to Use Fy! Studio?
Visit to the official Fy! Studio website.
Enter a description of the artwork you desire directly into the search box.
Proceed by clicking "Create my art," then choose multiple styles and click "Continue with styles."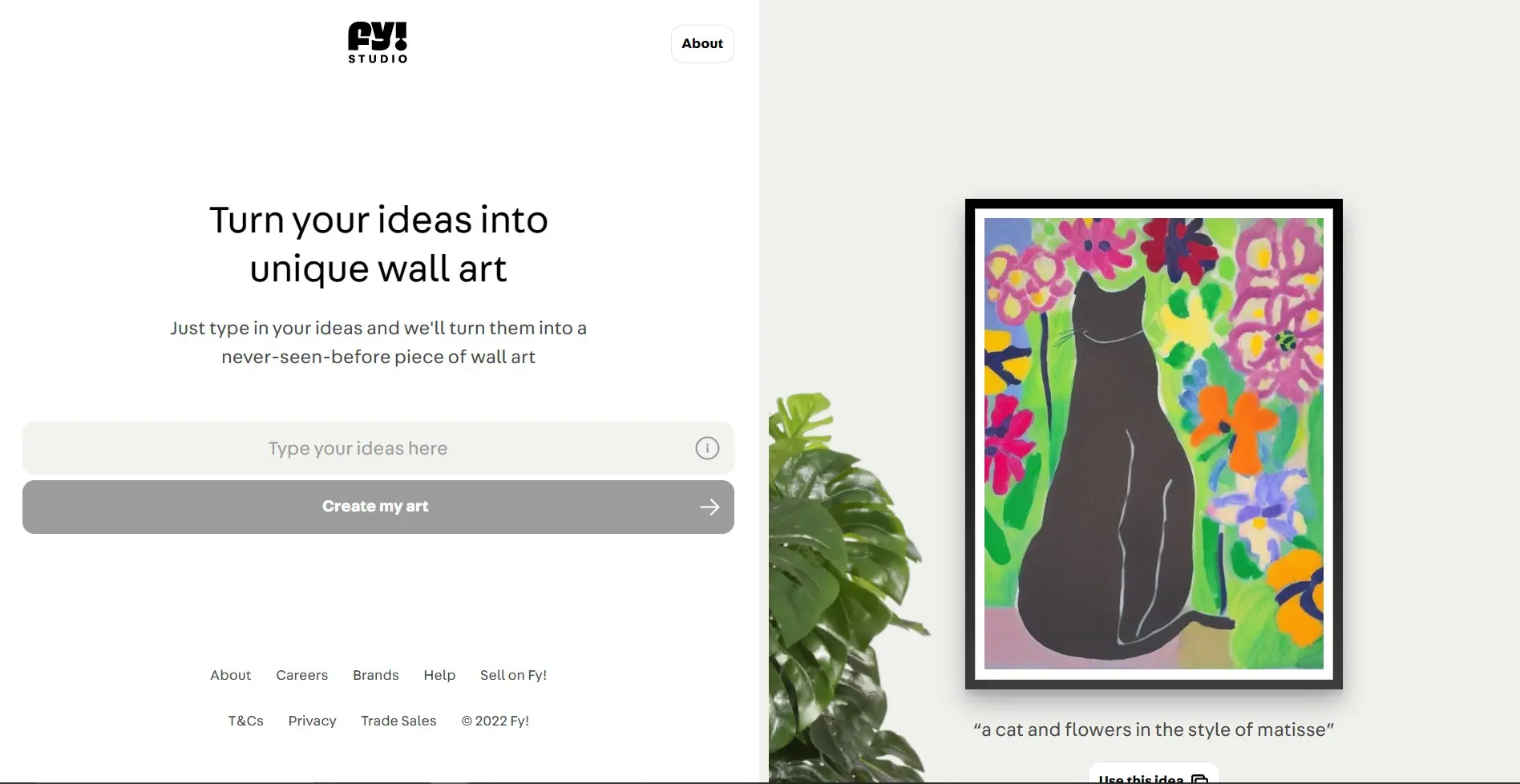 After a brief pause, the artwork you've specified will be generated on the right-hand side of the page.
If you find the result satisfying, please select your preferred piece and click "Buy Print" to make the purchase.
If you're already logged into your account, simply provide your shipping address and bank card information to finalize the purchase.
If you don't have an account yet, you'll only need to input an additional email address to complete the registration and purchase.
Fy! Studio Features
Fy! Studio AI stands as an AI-powered platform meticulously crafted for crafting distinctive artwork through the use of artificial intelligence. Notable attributes and benefits encompass:
AI-Produced Artistry: Explore an assortment of pre-existing AI-crafted artworks or import your own images for customization.
Tailored Artistry: Infuse your personal creativity to transform the artwork into something truly distinct.
Intuitive User Interface: Seamlessly produce AI-generated art without delving into intricate AI or machine learning principles.
Enhanced Customization: Tweak color schemes, textures, and various elements for even deeper personalization.
Fy! Studio Use Cases
The applications of Fy! Studio are well-suited for a diverse range of individuals:
Art connoisseurs who aspire to craft exceptional artwork using AI innovations.
Design professionals aiming to integrate AI-generated art into their design endeavors.
Creative minds in pursuit of fresh avenues to manifest their artistic visions.
Fy! Studio – FAQ
What is Fy! Studio?
Fy! Studio is an AI-powered platform for creating art through artificial intelligence, emphasizing creativity and personalization.
How can I use Fy! Studio?
Visit the official Fy! Studio website, describe your artwork, choose styles, and click "Create my art" to generate it.
What features does Fy! Studio offer?
Fy! Studio provides AI-produced art, personalized artistry, an intuitive user interface, and enhanced customization.
What is the pricing for Fy! Studio?
Fy! Studio starts at $15.
What distinguishes Fy! Studio from other AI art platforms?
Fy! Studio sets itself apart with its emphasis on creativity and personalization, allowing users to customize AI-generated art with ease.
Who can benefit from Fy! Studio?
Fy! Studio is suitable for art connoisseurs, design professionals, and creative individuals looking to create AI-generated art.
Can I purchase art from Fy! Studio without an account?
Yes, you can provide your email address for registration during the purchase process if you don't have an account yet.
Enhance your knowledge about AI tools like Fy! Studio by regularly visiting aview.