What is Pixelicious?: Pixelicious is a web-based tool designed to transform images into pixel art effortlessly. Featuring an intuitive interface, it enables you to effortlessly upload an image, fine-tune the degree of pixelation, and generate captivating pixel art with a nostalgic flair.
The primary advantage of employing Pixelicious as your pixel art creator is the ability to craft exceptional pixel art pieces without the requirement of specialized technical expertise.
About Pixelicious
Name of the AI Tool
Pixelicious
Purpose
To convert an image into pixel art
Category
Arts
Pricing
Starter: Free with limited features
Essential: $75 per month
Pro: $625 per month
Premium: $3,750 per month
Official Website
https://www.pixelicious.xyz/
How to use Pixelicious?
Open the Website: Pixelicious Website.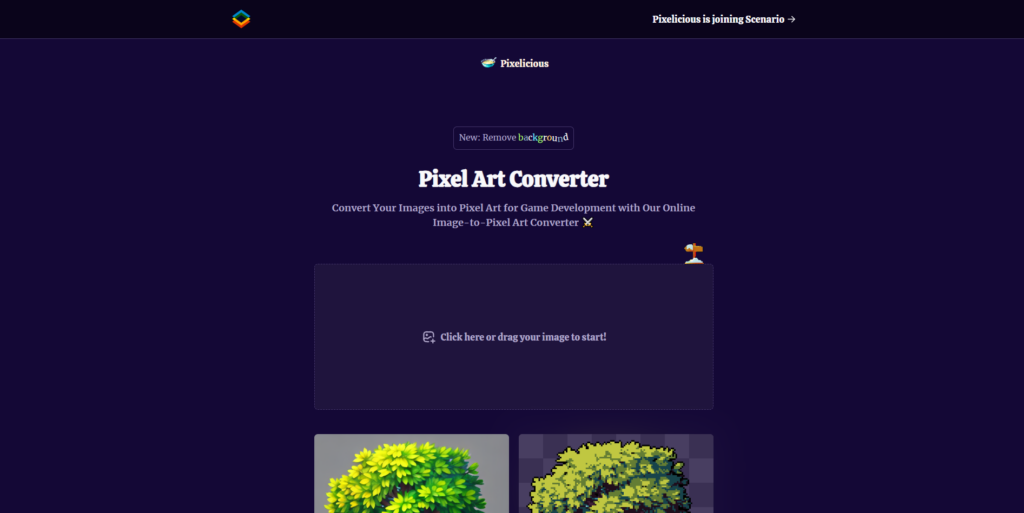 Customize Settings: Adjust pixelation level, color palette, or denoising according to your preferences.
Upload Your Image: Upload your desired image using the upload or drag-and-drop method.
Generate Art: Click the "Generate" button, and let the tool convert your image into retro-style art.
Preview Results: Review your pixelated image by clicking the "Preview" button for a real-size art preview.
Download: When satisfied with the result, click "Download" to save your pixelated image. Share your creation on social media or with friends.
Pixelicious Pricing
Pixelicious Pixel Art Maker provides a range of pricing options to suit your requirements:
Starter: This plan is free and comes with basic features.
Essential: Ideal for individual users or emerging teams, priced at $75 per month.
Pro: Tailored for mid-sized teams with added support, available at $625 per month.
Premium: Geared towards larger studios requiring advanced support, priced at $3,750 per month.
For a more comprehensive view of the pricing details, please refer to the table below:
Note: All paid plans include a 20% discount on any paid referrals, and you can save up to 17% by opting for an annual billing plan.
Pixelicious Key Features
Core Features of Pixelicious:
Background Removal

Easily remove image backgrounds using a slide bar.
Enhances the focus on your pixel art subject.

Customizable Color Palette

Create a personalized color palette to match your vision.
Explore community-created palettes from other Pixelicious users.

Pixel Grid Size

Choose from 32px, 64px, 128px, or 256px grid sizes.
Tailor the level of detail in your artwork.
Note: A 256px grid size closely resembles the original image resolution.

Advanced Settings: Denoising

Available for grid sizes of 128px and lower.
Cleans up images for clear and sharp final pixel art.

Reduce Size

Use the "Reduce Size" slide bar to download images at a smaller pixel size.
Ideal for creating sprites and game assets.

Inspect and Preview

Evaluate your pixel art before downloading.
Ensure it aligns with your vision and standards.
These features are thoughtfully designed to provide a smooth, intuitive, and fulfilling experience with Pixelicious.
Pixelicious – Pros and Cons
Pros
Cons
User-friendly interface for easy art conversion
Pixelation level customization limitations
Transforms uploaded images into retro-style pixel art
Premium plans may be expensive for some
Offers a variety of pricing plans for different needs
Allows users to download converted art designs
Assists in game development
Provides a free usage tier
Pixelicious Use Cases
Pixelicious caters to a diverse audience interested in image-to-pixel art conversion, including:
Game Developers: Ideal for game creators, Pixelicious simplifies the generation of pixel art assets for retro or vintage-style games.
Digital Artists: Digital artists can seamlessly incorporate pixel art into their creative projects, from avatars to digital illustrations.
Hobbyists and Enthusiasts: Even non-professionals can enjoy exploring pixel art with Pixelicious, making it a fun and engaging hobby.
Graphic Designers: Graphic designers can enhance their work by integrating pixel art, be it for logos, web graphics, or promotional materials with a pixel art aesthetic.
Pixelicious – FAQ
What is Pixelicious?
Pixelicious is a web-based tool that effortlessly transforms images into pixel art, making it easy for anyone to create captivating pixel art without technical expertise.
What are the pricing options for Pixelicious?
Pixelicious offers several pricing plans: Starter (Free with limited features), Essential ($75 per month), Pro ($625 per month), and Premium ($3,750 per month).
How do I use Pixelicious?
To use Pixelicious, open the website, customize settings, upload your image, generate art, preview the results, and finally, download your pixelated image.
What are the key features of Pixelicious?
Pixelicious offers features like background removal, customizable color palettes, various pixel grid sizes, denoising, reducing image size, and inspecting and previewing pixel art.
What are the pros of using Pixelicious?
Pixelicious provides a user-friendly interface, transforms images into retro-style pixel art, offers different pricing plans, allows downloading of converted art, aids in game development, and has a free usage tier.
Can I use Pixelicious for free?
Yes, Pixelicious offers a free usage tier with basic features.
What is the benefit of using the "Reduce Size" feature in Pixelicious?
The "Reduce Size" feature in Pixelicious allows you to download images at a smaller, selected pixel size, which can be ideal for creating sprites and other game assets.
To discover additional AI tools akin to Pixelicious, stay connected with aview.in.