What is NightCafe Studio? NightCafe Studio provides an AI-driven art generation tool, simplifying the process for artists to produce a diverse range of artwork and transform their photos into stunning digital art. NightCafe employs various AI art generation techniques, ensuring that artists can obtain digital art and NFTs that surpass the quality of their original photographs.
NightCafe leverages high-performance GPUs (Graphics Processing Units), which significantly reduce rendering times and enable users to create more art. This results in the swift completion of digital art in a matter of seconds. Importantly, NightCafe ensures that users maintain full copyright ownership of their generated images, granting them the rights to their creations, whether they choose to make them public or not.
About NightCafe Studio
Name of the AI Tool
NightCafe Studio
Purpose
Offers an AI-powered art generation tool that allows artists to effortlessly create diversified artwork and convert their photographs into exquisite digital art.
Category
Arts
Founder
Angus Russell
Founded on
November 2019
Pricing
AI Beginner – $4.79 USD
AI Hobbyist – $7.99 USD
AI Enthusiast – $15.99 USD
AI Artist – $39.99 USD
Official Website
https://creator.nightcafe.studio/
How does NightCafe AI work?
When users engage in AI-generated art creation on the NightCafe platform, they have two distinct options at their disposal. The first, initially employed by NightCafe, is referred to as "neural-style transfer." This method entails the uploading of a photo and the selection of a "style" image for the AI to recreate.
NightCafe has expanded its offerings with the introduction of a second method, a text-to-image art generator. This more recent option amalgamates two state-of-the-art, open-source machine learning systems. It leverages VQGAN, a generative adversarial neural network capable of image generation, in conjunction with CLIP, which evaluates how well an image aligns with your given prompt.
How to Create Digital Art on NightCafe?
NightCafe is designed to be user-friendly and accessible to a wide range of individuals. To craft digital art, follow these simple steps:
Log in to NightCafe.
Select the "Start Creating" option.
Enter a text prompt describing the digital art you envision in the designated text prompt field. You can use multiple prompts for complex creations.
Choose from the diverse styles available, or for greater creative control, access "advanced mode."
Opt for either of the two algorithms: "Artistic" or "Coherent."
Click "Create."
Your AI-generated digital art will be ready for download or publication in a minute or so, depending on your settings.
In "advanced mode," artists have the option to adjust the weight of each prompt, incorporate modifiers, specify the aspect ratio, and define the resolution and runtime of the digital art before NightCafe AI generates it. Additionally, you can evolve your existing artwork to introduce new elements.
It's important to note that NightCafe serves as a creation tool and does not offer the capability to mint or sell your creations directly to other users. After creating your digital art, you can auction it on NFT marketplaces such as OpenSea, Rarible, Sorare, and Etsy.
However, NightCafe provides a "publish" option. Once you've minted your NightCafe-created art as an NFT, you can publish it with a link to the platform where it is listed for sale. This makes your artwork visible to other NightCafe users, who can consider purchasing it through the provided link.
How to use NightCafe Studio? – Step-by-Step Tutorial
Here are the revised steps to follow when getting started with NightCafe:
Step 1: Access the Tool Online
To use the NightCafe AI art generator, navigate to their website and click the "create" button. You will then be prompted to either log into your existing account or create a temporary account.
Upon setting up your account, you will be taken to NightCafe Studio, where the art creation process occurs.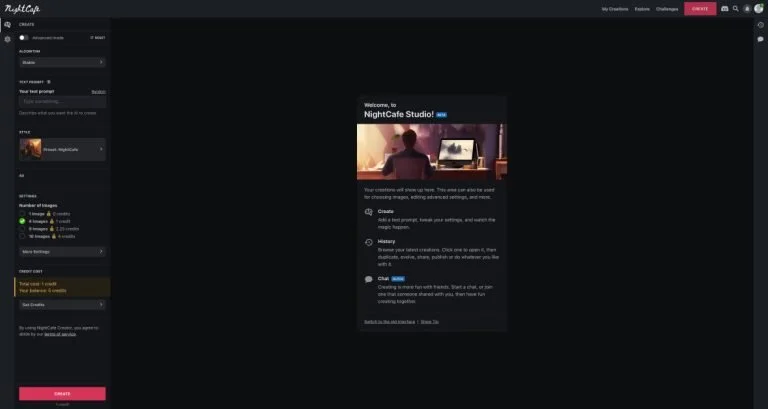 Step 2: Select a Desired Model
Upon clicking the "create" button, a new page will appear with various options to choose from. You will have access to several models to select based on your preferences. Currently, NightCafe provides Stable Diffusion, OpenAI DALL-E 2, Coherent (CLIP-Guided Diffusion), Artistic (VQGAN+CLIP), and Style Transfer. The most popular choices are Stable Diffusion and DALL-E 2.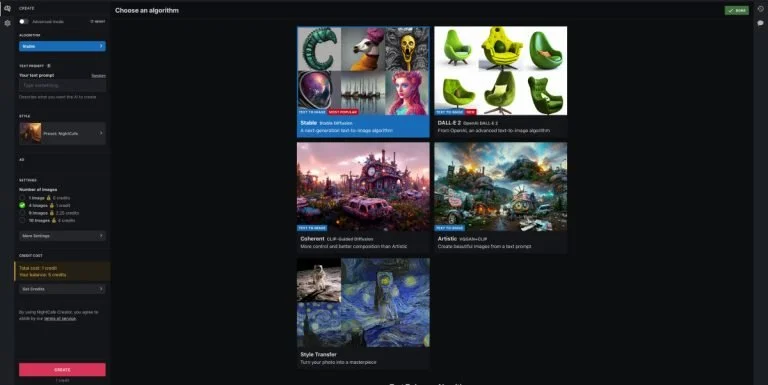 Step 3: Input Your Text Prompt
After choosing your model, it's time to input your text prompt. During this step, use descriptive and specific language to convey your vision for the AI to understand and create artwork that accurately represents it.
Step 4: Choose Your Artistic Style
Following the text prompt, select a preset style. You have numerous options, including Artistic Portrait, Photo, Dark Fantasy, Modern Comic, Pop Art, and more. Each style offers unique features for creating distinctive artwork. In advanced mode, you can even design your own styles, modify presets, and use multiple prompts and prompt weights.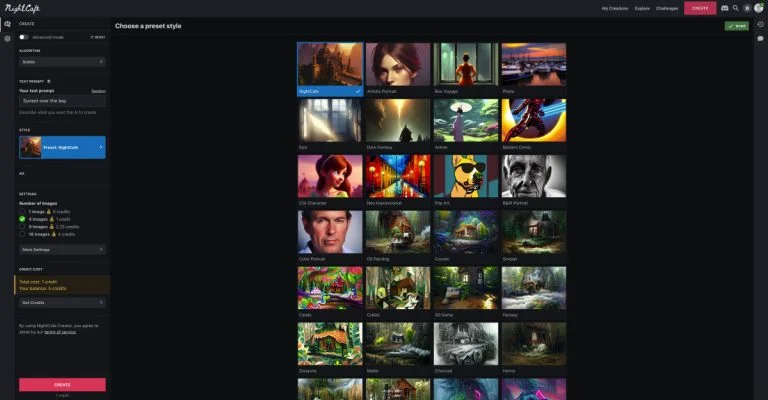 Step 5: Determine the Number of Images and Credits
One of the final steps is selecting the number of images you wish to create. For example, 1 image is equivalent to 0 credits, 4 images cost 1 credit, 9 images require 2.25 credits, and so on. However, upon your initial sign-up with NightCafe, you will receive 5 credits to get you started. Additionally, you can choose to purchase more credits for creating additional images.
Step 6: Generate Your AI Art
Once you've generated your artwork, you will have various options to edit, add to a collection, purchase a print, share, publish, and more. You can also view all of your "Creation Settings," which include the preset style, text prompts, initial resolution, overall prompt weight, model version, and more.
Step 7: Engage with the NightCafe Community
NightCafe boasts an active community where users can share their artwork and receive feedback from fellow users. By participating in this community, you can earn credits that can be used to generate more art pieces. Sharing your creations on social media and tagging NightCafe can also help you receive valuable feedback from the community.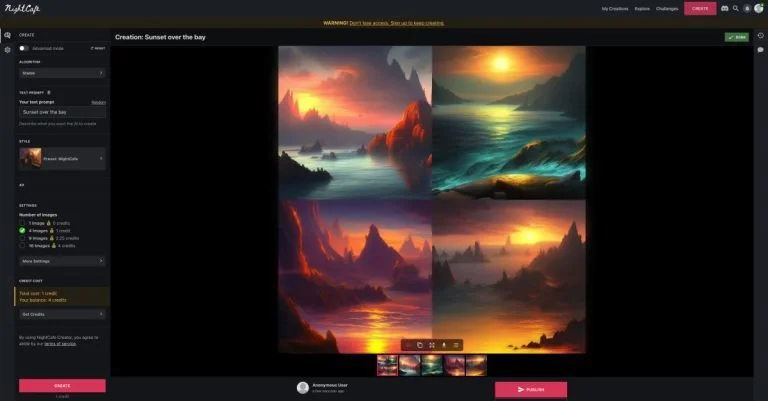 NightCafe Studio Advantages
One significant advantage of using NightCafe is that you maintain the rights to use the generated artwork as you see fit, including for commercial purposes. However, it's essential to note that the original image or file used to create the art must not be copyrighted.
In case you make an error during the creation process or are dissatisfied with the result of your artwork, you have the option to permanently delete a creation. This can be done through the "My Creations" screen, accessible from the three-dot menu associated with the creation.
As for NightCafe's pricing, the NightCafe AI is freely available to all artists, and the application is compatible with all platforms.
How to create an AI Generated Art using NightCafe Studio?
NightCafe offers various approaches to craft AI-generated art. Initiate the process by selecting the "Create" button in the main menu, then opt for your preferred creation method. All these methods are user-friendly and aim to unleash your creativity, allowing you to produce remarkable AI-generated illustrations. What's more, we provide powerful tools not found in any other AI art application, including the ability to use multiple style images, multiple prompts, bulk creation, bulk download, and custom seeds, all with no restrictions!
What makes NightCafe unique?
While NightCafe functions as an art generator, its distinctiveness lies in its vibrant community. Become part of a community of millions of AI art enthusiasts where you can share your creations, engage with others by liking and commenting on their artwork, participate in AI art chat rooms, and even join contests and challenges, all within the NightCafe platform, without the need to navigate elsewhere.
NightCafe Pricing
With NightCafe Creator, you have the freedom to generate an unlimited number of basic Stable Diffusion creations at no cost. A basic generation entails a thumbnail resolution, short runtime, and a single image. Advanced settings, such as higher resolution or photorealistic diffusion, may require credits, but you receive a daily free credit top-up, and you can accumulate additional credits by engaging in our diffusion community. Charges are applicable only if you decide to print one of your creations or require extended use of the creator tool.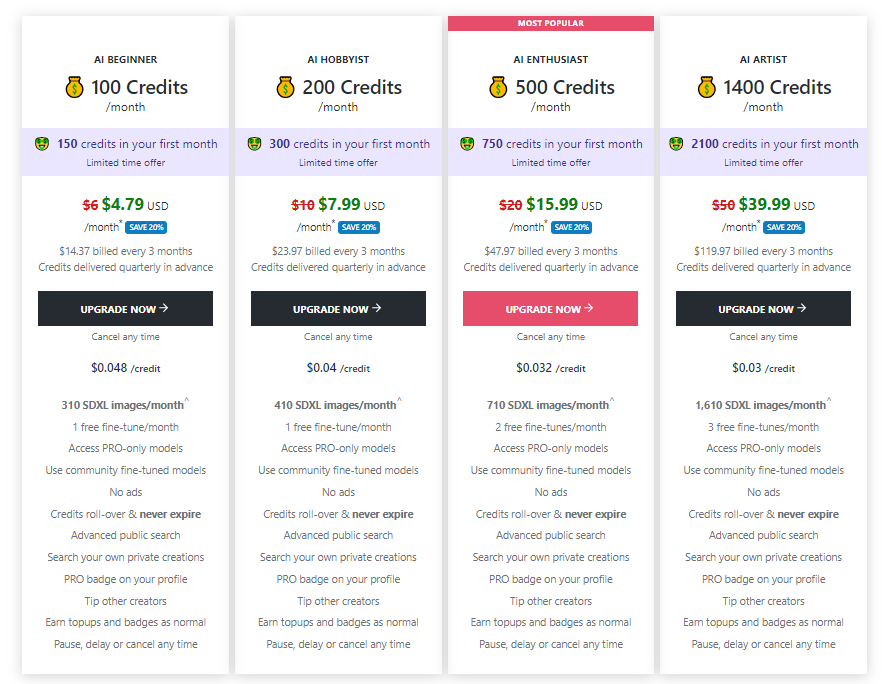 AI art algorithms used by NightCafe
NightCafe employs a variety of cutting-edge machine learning algorithms, including Stable Diffusion, DALL-E 2, Neural Style Transfer, VQGAN+CLIP & CLIP Guided Diffusion. Additionally, we integrate the Real-ESRGAN algorithm, further elevating the quality of your creations.
What is VQGAN+CLIP?
VQGAN and CLIP, two cutting-edge machine learning algorithms, collaborate to transform text prompts into art. VQGAN functions as an image generator, while CLIP evaluates the image's alignment with your prompt. CLIP provides guidance to VQGAN on refining the image to better match the text prompt. This iterative process is repeated several hundred times, leading to the emergence of remarkable results.
NightCafe Creator Image Generation Models
Within NightCafe Creator, an array of image generation models awaits, encompassing Stable Diffusion, DALL-E 2, CLIP-Guided Diffusion, VQGAN+CLIP, and Neural Style Transfer. Additionally, the platform offers a choice of nine distinct conversion styles and the capacity to craft images from text. However, it's important to note that Custom Stable Diffusion, which entails fine-tuning pre-existing Stable Diffusion models for specific applications or concepts, such as Arcane Diffusion, Mo-Di Diffusion, Ghibli Diffusion, Tron Legacy Diffusion, Classic Animation Diffusion, and Redshift Diffusion, is not currently available within NightCafe Creator.
NightCafe Studio – FAQ
What is NightCafe Studio?
NightCafe Studio is an AI-driven art generation tool that simplifies creating diverse artwork and transforming photos into digital art while ensuring full copyright ownership.
How does NightCafe AI work?
NightCafe AI offers two methods: "neural-style transfer" and a text-to-image generator, combining machine learning systems to create digital art.
How do I create digital art on NightCafe?
Creating digital art on NightCafe is easy: log in, enter a text prompt, choose a style, and generate your artwork. You can also customize settings in "advanced mode."
How can I use NightCafe-created art for NFTs?
After creating art on NightCafe, you can auction it on NFT marketplaces like OpenSea and share it with other NightCafe users for potential purchase.
What are the advantages of NightCafe Studio?
NightCafe allows users to maintain copyright ownership, delete creations, and offers a free AI tool. It also fosters a vibrant art community.
How is NightCafe unique?
NightCafe's uniqueness lies in its thriving art community where users can share, engage, participate in contests, and create art within the platform.
What are the AI art algorithms used by NightCafe?
NightCafe employs cutting-edge algorithms including Stable Diffusion, DALL-E 2, Neural Style Transfer, VQGAN+CLIP, and CLIP Guided Diffusion, as well as the Real-ESRGAN algorithm to enhance image quality.
For regular updates on AI tools similar to NightCafe Studio, consider following aview.