What is Notion AI? If you're acquainted with other AI text generation tools like ChatGPT, Notion AI functions in a very similar manner. However, what sets it apart is that the artificial intelligence (AI) is seamlessly integrated into your Notion account. This integration enables you to harness the advantages of AI, such as swift responses to queries, the automatic generation of content, the creation of summaries for action items, and more, all within the confines of the Notion application.
Transform your Notion workspace into a central hub of information, and automate tasks within Notion. Similar to other AI tools, you input a prompt, and Notion AI promptly generates a response, whether it be in the form of emails, blog posts, lists, definitions, and much more. Furthermore, Notion AI offers you the capability to modify, rephrase, or summarize existing content. I'll delve into these various use cases in more detail below.
About Notion AI
Name of the AI Tool
Notion AI
Purpose
To offer quick responses, automatic content generation, and more.
Category
AI Writing Tool
Co-founder and CEO 
Ivan Zhao
Founded Year
2016
Pricing (4 Levels)
Free
Plus: $8 per user/ month
Business: $15 per user/ month
Enterprise
Official Website
https://www.notion.so/
What you can do with Notion AI?
Notion AI serves as your writing assistant, capable of assisting with writing, brainstorming, editing, summarizing, and more. Think of it as a partner that enhances your thought process, saving time and optimizing its usage.
Here are various ways teams and individuals can leverage Notion AI:
Draft Creation: Overcome the initial hurdle of writing by having Notion AI generate a first draft on a given topic, providing you with ideas to refine.
Inspire Creativity: Instantly generate lists of ideas to boost creativity, offering starting points or even unconventional concepts.
Editing Expertise: Notion AI acts as a meticulous editor, addressing spelling, grammar, and translation, ensuring writing is precise and actionable.
Meeting Summaries: Instead of sifting through extensive meeting notes, let Notion AI extract essential points and action items.
In its current state, Notion AI is your ally throughout the entire writing process—before, during, and after. It can help you overcome writer's block, focus on more impactful work, and save time during writing's most laborious phases. While it doesn't do everything, it significantly enhances productivity, with future improvements on the horizon as it evolves beyond its alpha stage.
How to Use Notion AI?
Once you've gained access, enabling Notion AI within your Notion workspace is a straightforward process. Head to Settings and Members, proceed to the Plans section (referred to as "Upgrade" for free plan users), and activate the Notion AI add-on.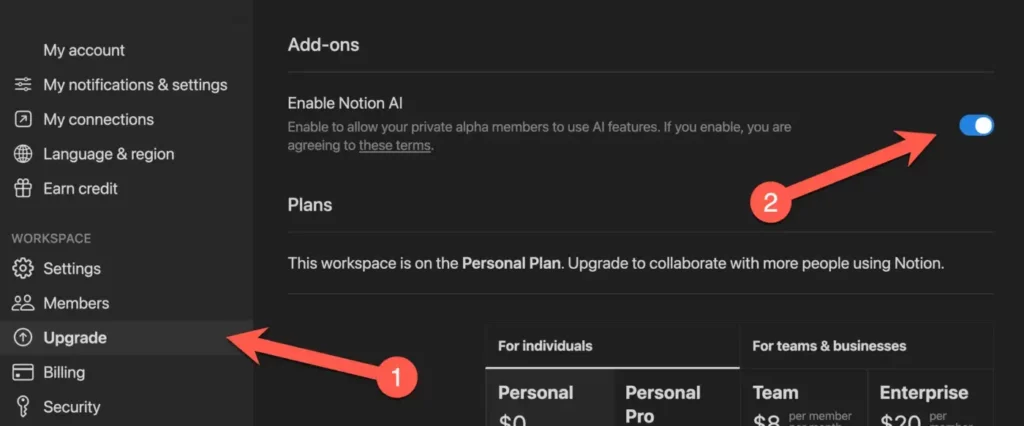 Once Notion AI is enabled, you'll have several methods for using it within your workspace:
Creating New Pages with AI Prompts.
Accessing AI Assist Options via the / command.
Accessing AI Assist Options for Existing Blocks through the block menu.
Accessing AI Assist Options from the formatting bar while editing text.
Here's a brief overview of these options:
When creating a new page, you can choose from various options like creating an empty page or starting with a template. You'll also find a new section titled "Draft with AI Assist." This section allows you to begin by providing a text prompt to different AI assist archetypes, such as Blog Post, Brainstorm Idea, Pros and Cons List, Creative Story, Meeting Agenda, and more.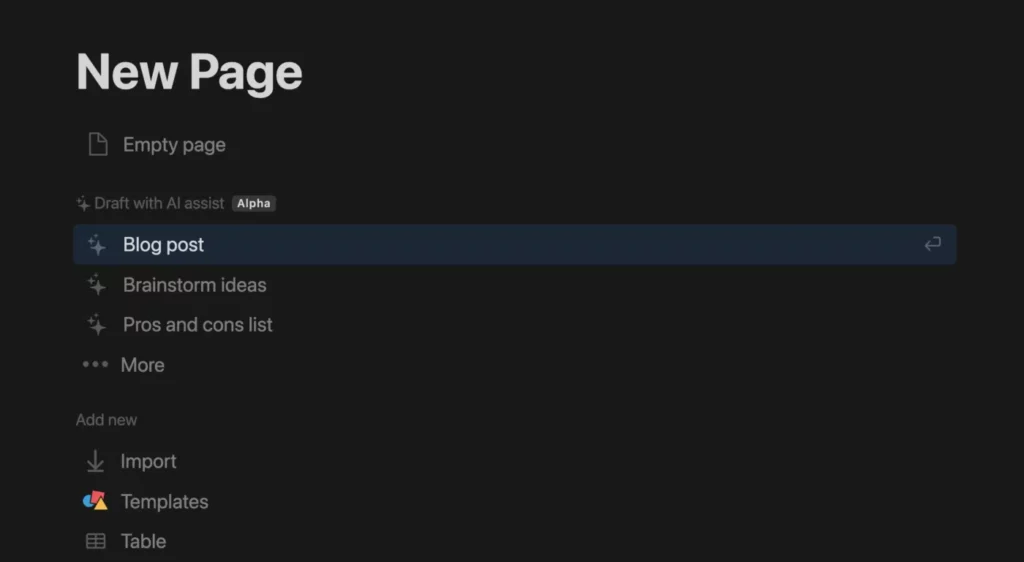 On a page with existing content, you can use the / command to access AI assist options, including "Help me write," "Continue writing" (to expand on existing text), and "Summarize" (to generate a summary of the page's content).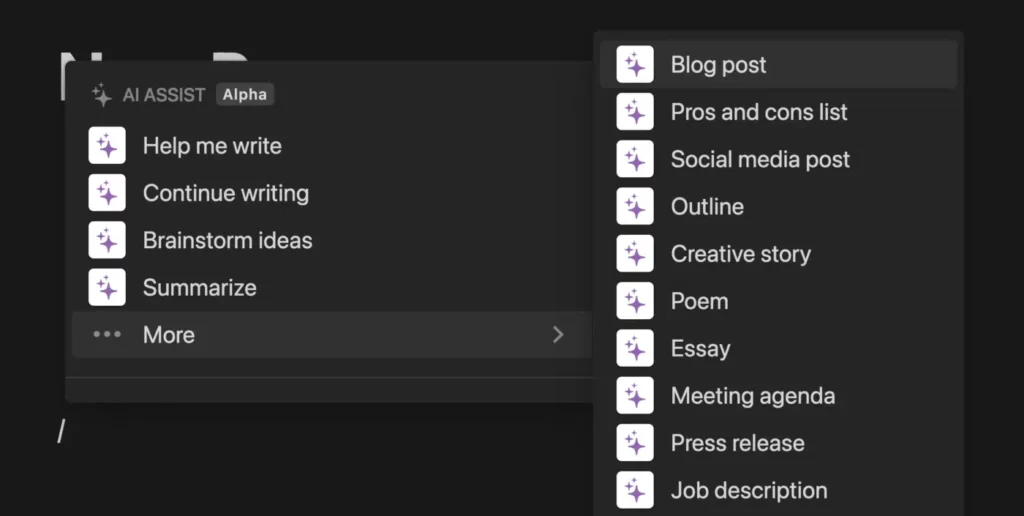 After receiving a result from your prompt, you can choose to keep, try again, or discard the output. Often, selecting "Try Again" leads to improved results, offering a bit of a trial-and-error approach.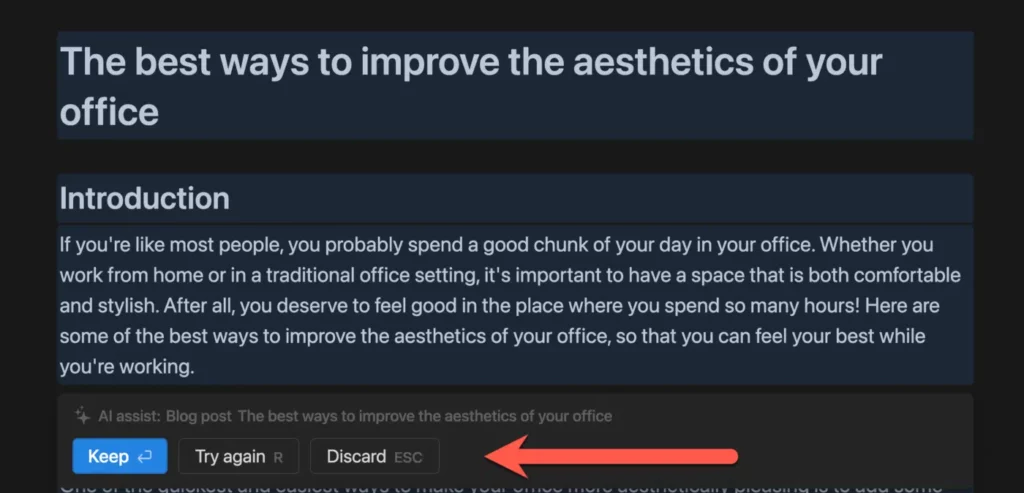 You can also utilize the AI assist tools on existing Notion blocks or specific text selections. In both cases, you have three options: "Fix spelling and grammar," "Summarize," and "Translate" (supporting over 10 languages, including English, Spanish, German, French, Korean, Japanese, Chinese, and more).

Ways to Use Notion AI
Given that Notion AI is currently text-based, I'll include prompts and most prompt output as text to maintain a text-focused approach for this post.
1. Creating Blog Post Outlines
Notion AI excels at outlining entire blog posts from a single-sentence text prompt. It effectively structures the post with multiple paragraphs, headings, and sub-headings.
For instance, when we used the Blog Post AI assist feature with the prompt, "The best ways to improve the aesthetics of your office," the output is shown below: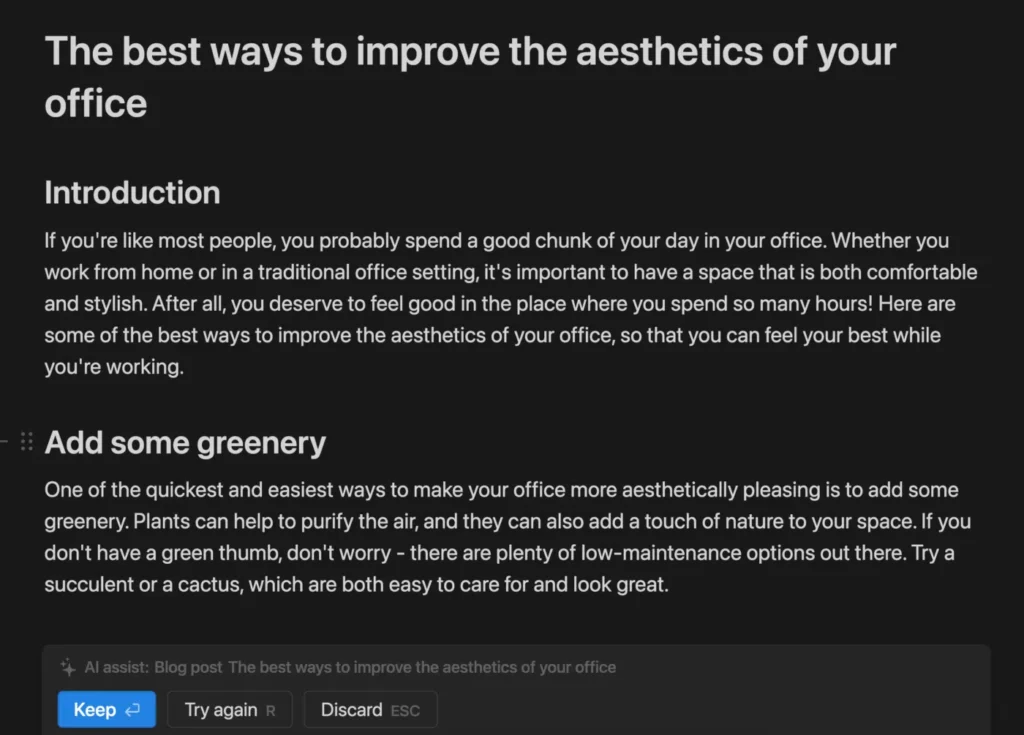 While we wouldn't publish AI-generated blog posts as they are, this functionality proves valuable for generating ideas and initial drafts, which can then be refined and supplemented with further research.
2. Creating Lists
Notion AI offers the ability to generate lists of items, which you can subsequently expand and develop.
To illustrate, when we utilized the Help Me Write feature (found in the / menu) with the prompt, "Give me a list of the best Nintendo 64 games," the AI produced the list, which can be further enriched and detailed.
3. Producing Comparison Tables
Notion AI has the capacity to construct straightforward tables within Notion, enabling you to compare and differentiate various elements.
For instance, when prompted with "Create a table comparing the nutritional values of kale, spinach, and lettuce," the AI generated a table that can be utilized for comparing the nutritional content of these items.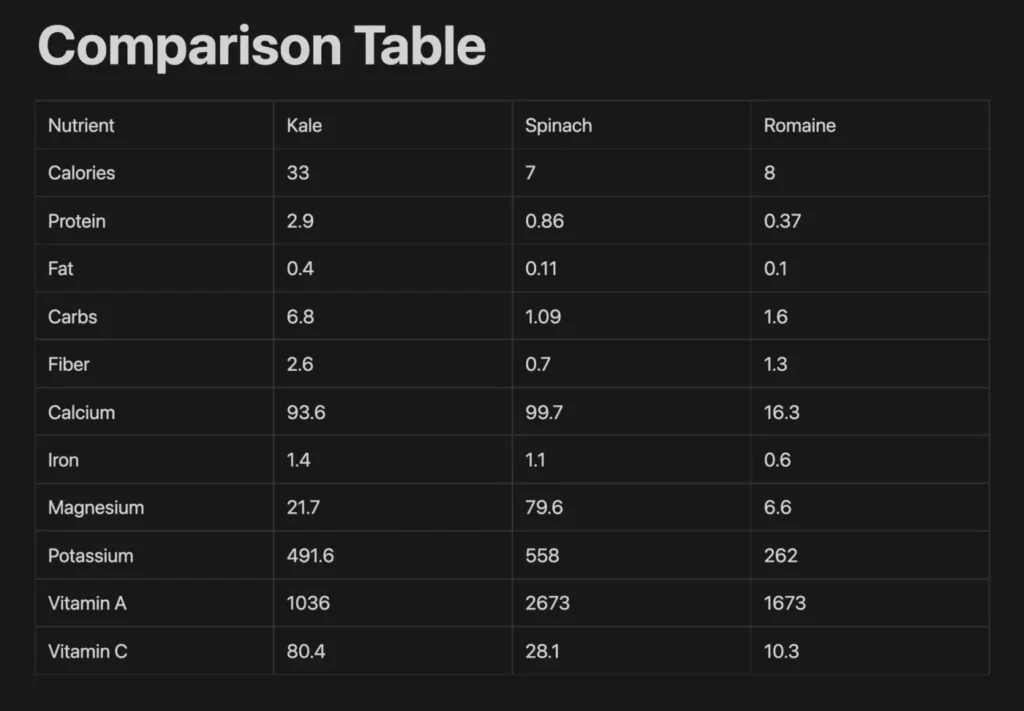 4. Correcting Grammar and Spelling Errors
One of the most immediately practical applications of Notion AI is rectifying spelling and grammar errors.
To address these issues, you can highlight text on a Notion page, navigate to the AI Assist menu, and choose "Fix Spelling & Grammar."

It's essential to acknowledge that while this feature can rectify certain mistakes, it may not catch every error.
As an example, we provided the following (poorly written) sentence:
"I love tomatos, their my favrite food, I eat them evry dy for lnuhc. If u rnt eating tomaots; your missing out."
Notion AI revised the sentence as:
"I love tomatoes, they're my favorite food, I eat them every day for lunch. If you're not eating tomatoes; you're missing out."
It successfully corrected the spelling and most glaring grammar issues, such as the substitution of "their" with "they're."
However, it didn't address the run-on sentence or the misplaced semicolon in the second sentence.
In comparison, Notion AI outperformed Grammarly's free plan but falls short of the capabilities promised by Grammarly Premium. Interestingly, Grammarly also introduced an incorrect change in the final "your," replacing it with "you."

5. Translate Text to Multiple Languages
Notion's Contextual AI Assist menu, accessible when selecting text or blocks, offers translation capabilities into various languages.
Currently, the supported languages encompass:
English
Korean
Chinese
Japanese
Spanish
Russian
French
Portuguese
German
Italian
Dutch
Indonesian
Vietnamese
To test this feature, despite being proficient only in English and JavaScript, I conducted a translation roundtrip.
I translated a sentence from English to Japanese, then to Spanish, followed by German, and finally back to English. The results are as follows: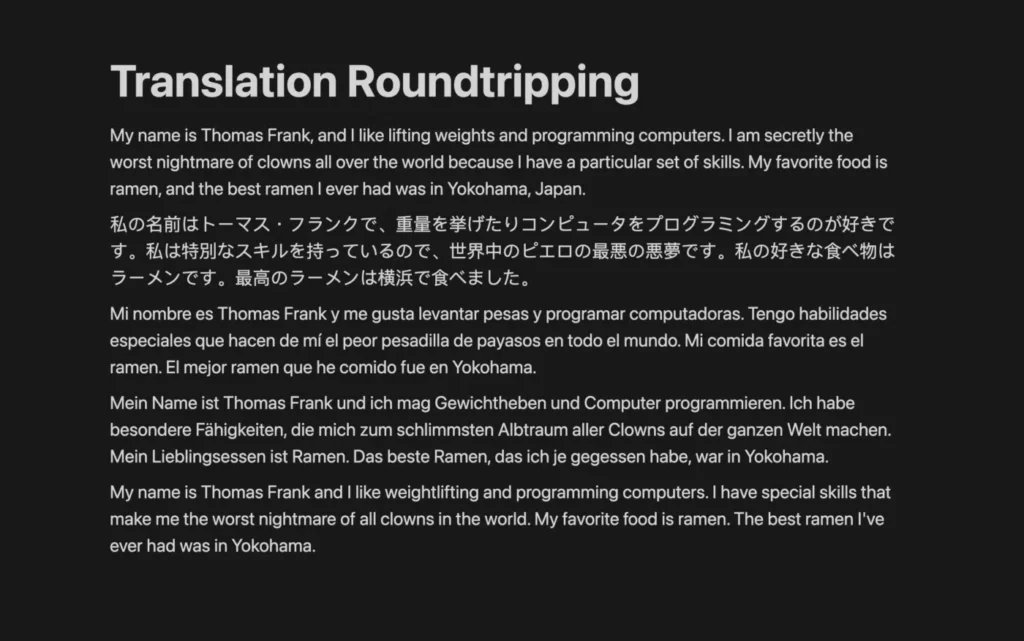 The final English re-translation differs in phrasing from the initial text but experiences minimal loss in translation. The primary discrepancy is in translating "clowns all over the world" to "all clowns in the world," resulting in a slight variance in meaning.
Commenters on the video version of this post also noted that the foreign-language translations were notably accurate.

6. Coding in JavaScript (and Other Languages)
Amidst the growing popularity of GitHub Copilot, we were intrigued to evaluate Notion AI's capability to generate programming code and its practical functionality.
Surprisingly, it does indeed work. However, I've discovered that you need to be quite explicit about the code's structure; it may not always function as expected if your instructions are too vague.
To put it to the test, we provided Notion AI with the following prompt:
"In JavaScript, write a script that requires Axios, then creates an async function with a loop inside that utilizes Axios with a template literal to make five calls to the PokeAPI, aiming to fetch details of the first five Pokémon. Display each Pokémon's name, height, and weight. Begin by writing '' and conclude with ''."
The AI generated the following code (though we should mention that we had to request a code rewrite once, as the initial output placed require('axios') at the top without assigning it to a variable, which it successfully did on the second attempt):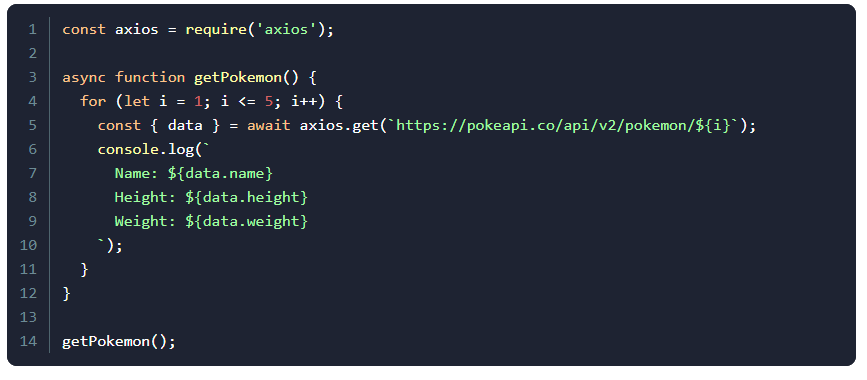 Notion AI Pricing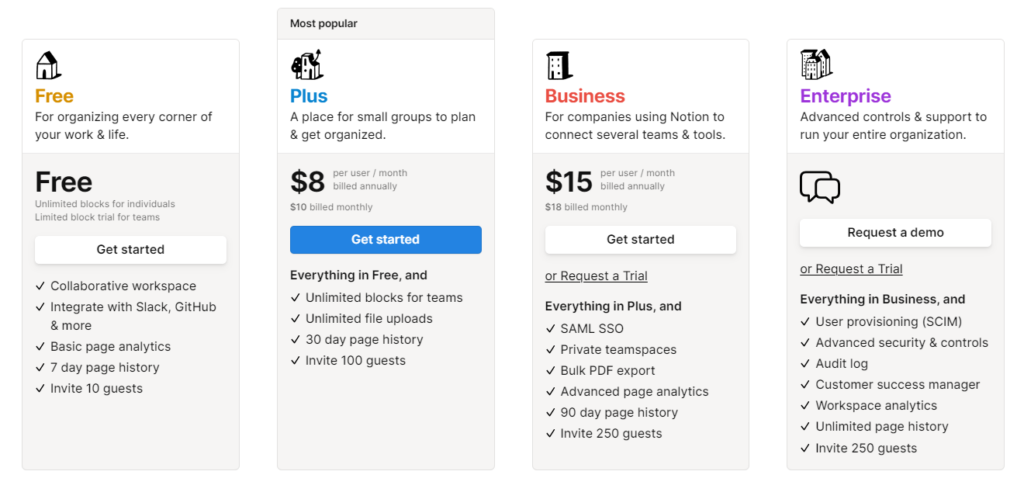 1. Free: For organizing every corner of your work & life. Unlimited blocks for individuals. Limited block trial for teams
Collaborative workspace
Integrate with Slack, GitHub & more
Basic page analytics
7 day page history
Invite 10 guests
2. Plus: $8 per user/ month – A place for small groups to plan & get organized.
Everything in Free, and
Unlimited blocks for teams
Unlimited file uploads
30 day page history
Invite 100 guests
3. Business: $15 per user/ month – For companies using Notion to connect several teams & tools.
Everything in Plus, and
SAML SSO
Private team spaces
Bulk PDF export
Advanced page analytics
90 day page history
Invite 250 guests
4. Enterprise: Advanced controls & support to run your entire organization.
Everything in Business, and
User provisioning (SCIM)
Advanced security & controls
Audit log
Customer success manager
Workspace analytics
Unlimited page history
Invite 250 guests
Functions of Notion AI
Leverage Notion AI as your creative partner, whether you're just starting or seeking inspiration. Its current functions include:
Summarizing existing content: Quickly extract key points for research proposals, product specs, or meeting notes.
Brainstorming ideas: Generate startup names or party costume ideas when writer's block strikes.
Drafting content: Craft blog posts, Instagram captions, emails, or poems with a starting point drawn from millions of examples.
Ensuring spelling and grammar: Benefit from built-in spell check and grammar correction.
Translating content: Effortlessly convert your written content into another language.
Limitations of Notion AI
AI outputs are inherently constrained, and the field of AI is continuously advancing. These Notion AI Limitations are multifaceted and can result from various factors, such as:
Constricted input data.
Systemic biases.
Limited quantities of training or test data.
Inferior quality of training or test data.
Therefore, with Notion AI:
Errors in the information it provides may occur.
Potentially harmful content may be generated when prompted.
Notion AI might lack knowledge of recent events within the past 6-12 months, leading to potentially inaccurate or outdated responses.
The AI's responses could be influenced by biases and may exhibit biased content.
Notion AI – FAQ
What is Notion AI?
Notion AI is an AI text generation tool integrated into your Notion account, offering quick responses, automatic content generation, and more.
How can Notion AI benefit writers and content creators?
Notion AI can help writers and content creators by generating drafts, enhancing creativity, providing editing expertise, and summarizing meeting notes, ultimately saving time and improving the quality of their work.
What can you do with Notion AI?
Notion AI assists with drafting, brainstorming, editing, summarizing, and more, enhancing your writing process.
What are the pricing tiers for Notion AI?
Notion AI offers Free, Plus, Business, and Enterprise pricing options.
What are the functions of Notion AI?
Notion AI can summarize content, brainstorm ideas, draft content, check spelling and grammar, and translate text.
What are the limitations of Notion AI?
Notion AI may have limitations such as errors, potential biases, and outdated information due to constrained input data and training data quality.
How can Notion AI enhance meeting summaries?
Notion AI can extract essential points and action items from meeting notes, making summaries more efficient.
We hope that this article has provided a more profound understanding of Notion AI. For further insights into AI tools, please visit aview.